Methven
Methven is a small town located near the western edge of the Canterbury Plains, in the Canterbury region. A popular tourist destination, Methven is perfectly located for fishing, jet boating, tramping, hot air ballooning and skiing at nearby Mt Hutt. Just one hour from Christchurch on Inland Scenic Route 72, this alpine-themed village buzzes in winter, while in summer it is humming with events such as markets, multisport challenges and some very social golfing. more
Methven is at the heart of nine Canterbury ski fields and over 1000 km's of NZ's best heli-skiing terrain.
Even if you are not a skier or snowboarder there are many reasons to visit Methven at any time of the year. Within minutes of arriving in Methven you can be enjoying a country golf course, horse trekking through the countryside, hiking or mountain biking nature trails or enjoying a massage or sampling a brew at a local pub while the Norwest turns the sky red.
A Hot air balloon or heli flight provides a bird's eye view of our patchwork landscapes and southern alps.
Take a moment to send a Canterbury related E-Postcard to your friends.
Methven Directory Information
Please choose from the main accommodation, attractions, tours, transport or visitor information categories below for Methven, Canterbury, New Zealand.
Find By
Where Do You Want To Go?
This New Zealand map does not display any listings on the map itself but may provide navigation by clicking on map symbol. Alternatively select a category or a region from the main links to find and view tourism businesses.
View 2 events near Canterbury - Methven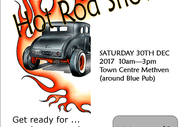 Hot Rod & Classic Car Show
Sat 30th Dec 2017
The hot rods and classic cars are once again coming to Methven for a show. Public can view all the cars on display around the Blue Pub car park. Proceeds will be going to Methven Charities. Any enquiries ring Gerard ...
Where: The Blue Pub, Methven, Ashburton District
Address: 1 Barkers Road, Methven, Ashburton District
From: 10:00am on Saturday 30th December 2017
To: 3:00pm on Saturday 30th December 2017
Discover Mt Hutt - Summer Open Day
Sat 3rd Mar 2018
Discover Mt Hutt is an opportunity to explore Mt Hutt during summer. The community fundraising event offers spectacular alpine scenery for walkers and challenging trails for mountain biker. Discover Mt Hutt is a ...
Where: Mt Hutt Ski Area and Snow Centre, Methven, Ashburton District
Address: Mt Hutt Skifield Rd, Methven, Ashburton District
From: 10:00am on Saturday 3rd March 2018
To: 4:00pm on Saturday 3rd March 2018