Fiordland - Doubtful Sound
Doubtful Sound an unforgettable, breath-taking, remote, dazzling, must-see fiord in New Zealand's wild southwest – at Doubtful Sound you are perfectly surrounded by untouched Mother Nature at its very best. Doubtful Sound is one of Fiordland's two accessible fiords and is characterised by a large number of stunning branches, hidden inlets, picturesque islands, thundering waterfalls, vertical cliff faces and lush-mossy rainforest. Doubtful Sound's main activities are scenic cruises, overnight cruises, kayaking, fishing and scenic flights. more
Doubtful Sound is perhaps the most inaccessible of New Zealand's major attractions – apart from accessing the fiord via the sea – the only way to reach the fiord is by taking a cruise over the large and stunningly picturesque Lake Manipouri and then busing over the ranges and down to the fiord. This incredible journey just to get there, is part of what make Doubtful Sound so special. All visitors first cruise the incredible Lake Manipouri – an forgettable lake characterised by innumerable islands, lush rainforest, scores of hidden lake branches and inlets, sandy beaches, cascading waterfalls and towering rugged mountains. Secondly visitors are driven through some of New Zealand's most pristine untouched alpine scenery, and then finally reach this secluded hidden wonder of nature. Many visitors choose to stay overnight on the cruise ships and awake to secluded Doubtful Sound's famed "sound of silence". Doubtful Sound offers the perfect less-commercialised alternative to Milford Sound presenting the ideal opportunity to explore more of the hidden secrets of the deepest parts of Fiordland National Park.
Hewn by mighty glaciers during past ice ages, Doubtful Sound today stands as a testament to the awesome power and awe-inspiring sculpturing ability of glaciers. Glacial hewn U-Shaped valleys, sheer vertical cliff faces and glacial hanging valleys characterise the landscape, and as you gaze in wonder you will be overcome with its sheer beauty and majesty. Doubtful Sound is actually a fiord (a flooded valley formed by a glacier – while a flooded valley formed by a river is a sound). Stretching for about 40 kilometres and reaching depths of 421 metres, Doubtful Sound is 3 times longer and 10 times larger than Milford Sound as well as New Zealand's deepest fiord.
Doubtful Sound hosts both a rich and peculiar marine eco-system. Not only does Doubtful Sound boast a resident population of about 70 bottlenose dolphins (among the world's southernmost), but also populations of endemic Fiordland Crested Penguins, fur seals, sea birds and sometimes large whales (especially humpback whales and southern right whales). Sitting on top of Doubtful Sound lies a layer of 2-10 metre thick fresh water (depending on the latest rainfall). Below this stained layer of freshwater (stained by tannins from the rainforest) is the heavier, warmer salt water. Due to the tanned layer of freshwater above blocking the light – deep sea creatures, like black coral, flourish just 10 metres below the surface (ordinarily living 30-40 metres below).
The climate of Doubtful Sound is mild temperatures and very wet. Temperatures typically range from highs of 19C in summer to about 9.5C in winter. Rainfall averages in excess of 6500mm annually making Doubtful Sound one of the wettest places in the world with rainfall 180 days a year. On a sunny day Doubtful Sound brightens up revealing its incredible mountain peaks and awe-inspiring views, on a rainy day the moody sound comes alive with gushing walls of waterfalls, cascading from sheer cliffs around you. All year round – regardless of the weather – Doubtful Sound is a profound, unforgettable wonder of nature.
Doubtful Sound has only limited accommodation facilities. Most accommodation options in Doubtful Sound are in the form of cabins on the cruise boats. Otherwise most people stay in the stunning lakeside resort towns of Te Anau and Queenstown.
Take a moment to send a Fiordland related E-Postcard to your friends.
Find By
Where Do You Want To Go?
This New Zealand map does not display any listings on the map itself but may provide navigation by clicking on map symbol. Alternatively select a category or a region from the main links to find and view tourism businesses.
View 5 events near Fiordland - Doubtful Sound
Special Contra Dance with US Allemand Joy Contra Tour
Fri 23rd Feb 2018
Dance with super experienced contra dancers from the USA! Live Music by Allemand Joy Band: - ...Arlene Jamar: Keyboard, Aubrey Swift: Fiddle, Mandolin,Guitar, Bass - ...Betsy Foote: Fiddle, Glenn Lee: Accordion, ...
Where: Fiordland Community Events Centre, Te Anau, Fiordland
Address: 20-22 Luxmore Drive, Te Anau, Fiordland
From: 7:00pm on Friday 23rd February 2018
To: 10:30pm on Friday 23rd February 2018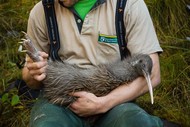 Fiordland Kiwi Diaries - Public Talk
Wed 28th Feb 2018
Hear from DOC ranger Tim Raemaekers as he reveals the rewards and challenges of working to protect the Fiordland tokoeka (kiwi). Kiwi populations around the country are declining on average by 2% a year, mostly due ...
Where: Fiordland National Park Visitors Centre, Te Anau, Fiordland
Address: Lakefront Drive, Te Anau, Fiordland
From: 7:00pm on Wednesday 28th February 2018
To: 8:00pm on Wednesday 28th February 2018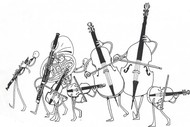 Brahms Mini Festival
From: Thu 1st Mar 2018
Following the success of the bi-annual mini-festivals in Te Anau, The Fiordland Festival Players have decided this year to them the festival around Brahms. Unquestionably one of the greatest composers of the romantic ...
Where: Southminster Abbey, Te Anau, Southland
Address: Aparima Drive
From: 8:00pm on Thursday 1st March 2018
To: 9:30pm on Friday 2nd March 2018
Understanding Your Farming Business
From: Thu 8th Feb 2018
Understanding Your Farming Business (UYFB) - Engaging women as critical farming partners Would you like to better understand what drives your sheep and beef farm? Do you want the skills and confidence to participate ...
Where: Te Anau Golf Club , Te Anau, Fiordland
Address: Golf Course Rd, Te Anau, Fiordland
From: 8:30am on Thursday 8th February 2018
To: 8:00pm on Thursday 3rd May 2018
St John Workplace First Aid Training
Thu 24th May 2018
Attain your St John First Aid Level 1 certificate (valid for two years). Ideal for anyone who wants to learn basic first aid or needs to update their first aid qualification. Minimum qualification requirement for a ...
Where: Te Anau Club, Te Anau, Fiordland
Address: Pop Andrew Drive, Te Anau, Fiordland
From: 8:30am on Thursday 24th May 2018
To: 5:30pm on Thursday 24th May 2018