Dannevirke
Dannevirke is the main town in the Tararua District, located in the Manawatu region of New Zealand. A number of well-known rugby and cricket players come from Dannevirke. more
Dannevirke Directory Information
Please choose from the main accommodation, attractions, tours, transport or visitor information categories below for Dannevirke, Manawatu, New Zealand.
Find By
What Do You Want To Do?
Making the journey to Southern Star Abbey Kopua is definitely a step off the well-trodden paths taken by other tourists and travellers in New Zealand. However, this journey should really only be considered by those travellers (from New Zealand and from overseas) on the path of seeking God and wishing to get closer to God.

Mobile-friendly - Modern, comfortable accommodation in picturesque Dannevirke, heartland New Zealand. We are centrally located and situated 45 mins drive to Palmerston North, 1.5 hours to Napier, 2 hours to Masterton and 3 hours drive to Wellington. Short stroll to shopping, restaurants, croquet, bowling clubs and civic amenities. Cooked/continental breakfast. Sky TV 50plus channels. Friendly hosts keen to assist.
Where Do You Want To Go?
This New Zealand map does not display any listings on the map itself but may provide navigation by clicking on map symbol. Alternatively select a category or a region from the main links to find and view tourism businesses.
View 2 events near Manawatu - Dannevirke
Food Drive
From: Fri 1st Dec 2017
'Tis the season for giving... Tararua District Library is a collection point for local food banks during December 2017. Pop into your local library with non-perishable food item donations, and give your community a ...
Where: Dannevirke Library, Dannevirke, Tararua
Address: 1 Station Street, Dannevirke, Tararua
From: 9:00am on Friday 1st December 2017
To: 1:00pm on Saturday 30th December 2017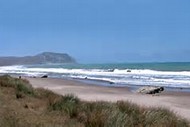 Kids Fishing Competition
Thu 28th Dec 2017
Looking for something for the kids to do at the beach over the Christmas holidays. Akitio Boat Club have a kids fishing competition on Thursday 28 December from 9am to 2pm. Take the kids to the beach for the day and let ...
Where: Akitio Boat Club, Dannevirke, Tararua
Address: Akitio Esplanade, Dannevirke, Tararua
From: 9:00am on Thursday 28th December 2017
To: 2:00pm on Thursday 28th December 2017