Far North
The Far North District of New Zealand, as its name suggests, is the northernmost district within New Zealand, consisting of the northern tip of the North Island. The district stretches from the capes and bays at the northern tip of the Aupouri Peninsula past Ninety Mile Beach to the main body of the North Auckland Peninsula, where it encompasses both the Bay of Islands and Hokianga. more
The northernmost town in the district is Kaitaia. There is a cluster of towns on the east coast around the Bay of Islands, (Kerikeri, Paihia, Russell, Opua, Kawakawa and Moerewa), the town of Kaikohe centrally situated to the west of them, and a cluster of small settlements on the west coast surrounding the Hokianga Harbour (Omapere, Opononi, Rawene, Panguru, Kohukohu, and Horeke).
Find By
Where Do You Want To Go?
This New Zealand map does not display any listings on the map itself but may provide navigation by clicking on map symbol. Alternatively select a category or a region from the main links to find and view tourism businesses.
Where Do You Want To Go?
View 2 events near Northland - Far North
Mangonui Craft Market
From: Sat 26th Nov 2016
- Local Olive Oil - Kauri products - Paua and shell products - Jewellery - Knitting - Books - Aprons, oven mitts, table runners, etc - Wooden words - standard words - Local produce, homemade jams and pickles
Where: Mangonui Hall, Doubtless Bay, Far North
Address: 132 Waterfront Drive, Mangonui, Doubtless Bay, Far North
From: 9:00am on Saturday 26th November 2016
To: 2:00pm on Saturday 29th July 2017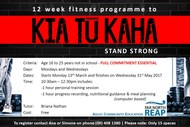 Kia Tu Kaha- 12 Week Fitness Programme to Stand Strong
From: Mon 13th Mar 2017
If you are aged between 16-25 years and not in school then this is an opportunity for you! Come and get two group personal training sessions per week with the awesome Briana Nathan from Energetics. Watch your ...
Where: Far North REAP, Kaitaia, Far North
Address: 33 Puckey Ave, Kaitaia, Far North
From: 10:30am on Monday 13th March 2017
To: 12:30pm on Wednesday 31st May 2017