Taumarunui
Taumarunui is located in the Ruapehu region of New Zealand. Taumarunui is set on the Main Trunk Railway Line and is known for its railway history, farming, gardens and weaving. more
Taumarunui Directory Information
Please choose from the main accommodation, attractions, tours, transport or visitor information categories below for Taumarunui, Ruapehu, New Zealand.
Find By
What Do You Want To Do?
Where Do You Want To Go?
This New Zealand map does not display any listings on the map itself but may provide navigation by clicking on map symbol. Alternatively select a category or a region from the main links to find and view tourism businesses.
Where Do You Want To Go?
View 2 events near Ruapehu - Taumarunui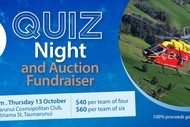 KCE Quiz Night & Auction Fundraiser
Thu 13th Oct 2016
You're invited to join us, and community members from around the King Country region, for a fun evening out in Taumarunui to support the Waikato Westpac Rescue Helicopter. As a proud sponsor of this life-saving ...
Where: Taumarunui Cosmopolitan Club, Taumarunui
Address: 10 Miriama St, Taumarunui
From: 6:00pm on Thursday 13th October 2016
To: 11:59pm on Thursday 13th October 2016
'Sons of a Bitch' & Mel Parsons
Thu 27th Oct 2016
"A world-class, quintessentially Kiwi show full of heart and humour…guaranteed a great night out. Do NOT miss it"" - Theatreview. Farmstrong in association with ANZCO proudly present: 'Sons of a Bitch' & Mel ...
Where: Upoko Woolshed, Taumarunui
Address: 153 Ngakonui-Ongarue Road, Taumaranui, Taumarunui
From: 6:00pm on Thursday 27th October 2016
To: 11:59pm on Thursday 27th October 2016