Taumarunui
Taumarunui is located in the Ruapehu region of New Zealand. Taumarunui is set on the Main Trunk Railway Line and is known for its railway history, farming, gardens and weaving. more
Taumarunui Directory Information
Please choose from the main accommodation, attractions, tours, transport or visitor information categories below for Taumarunui, Ruapehu, New Zealand.
Find By
What Do You Want To Do?
Where Do You Want To Go?
This New Zealand map does not display any listings on the map itself but may provide navigation by clicking on map symbol. Alternatively select a category or a region from the main links to find and view tourism businesses.
View 2 events near Ruapehu - Taumarunui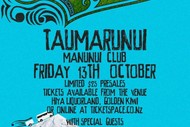 Paua
Fri 13th Oct 2017
Paua are back in NZ this October and for the first time in Taumarunui. Many of Paua's releases have hit no. 1 on the iTunes reggae charts in Australia, New Zealand and abroad, such as ground breaking 2016 album ...
Where: Manunui Club Inc, Taumarunui, Manawatu / Whanganui
Address: 14 Matai St, Taumarunui, Manawatu / Whanganui
From: 6:30pm on Friday 13th October 2017
To: 11:59pm on Friday 13th October 2017
Meditation Retreat - Opening To Compassion
From: Wed 3rd Jan 2018
Practicing together, we discover that meditation is a powerful social experience – a way to wake up into the community and the natural world. Each day, our meditation practice and the simplicity of our daily routine ...
Where: Taumarunui High School, Taumarunui, Manawatu / Whanganui
Address: 202 Golf Road, Taumarunui, Manawatu / Whanganui
From: 12:00pm on Wednesday 3rd January 2018
To: 1:00pm on Wednesday 17th January 2018