Riverton
Riverton is a small seaside town located in the Southland region of New Zealand. Set at the western end of Oreti Beach, on the Southern Scenic Route, Riverton offers many attractions.
Find By
What Do You Want To Do?
Mobile-friendly - A warm friendly welcome awaits guests at Highview Bed and Breakfast. A modern home with easy access located on State Highway 99—the Southern Scenic Route. Our bed and breakfast accommodation has a tranquil rural setting with great views over farmland and Jacobs Estuary to the Takitimu Mountains.
Where Do You Want To Go?
This New Zealand map does not display any listings on the map itself but may provide navigation by clicking on map symbol. Alternatively select a category or a region from the main links to find and view tourism businesses.
View 2 events near Southland - Riverton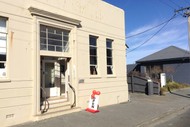 Preston Russell Law Art Awards Exhibition 2018
From: Sat 28th Apr 2018
The Preston Russell Law Art Award Exhibition is in its third year. The exhibition features artists residing in the Southland, Otago and Central Otago areas. The exhibition is open Wednesday to Sunday form 11am till ...
Where: Riverton Arts Centre, Riverton, Southland District
Address: 129 Palmerston St, Riverton, Southland District
From: 11:00am on Saturday 28th April 2018
To: 4:00pm on Sunday 20th May 2018
The Kugels
Sun 20th May 2018
Grab your friends and/or your kids for some spontaneous toe-tapping! Klezmer is spirited, wild and haunting music that may make you want to dance! The concert is presented as part of the Southland Arts Festival. The ...
Where: Te Hikoi - Southern Journey, Riverton, Southland District
Address: 172 Palmerston Street, Riverton, Southland District
From: 4:30pm on Sunday 20th May 2018
To: 5:40pm on Sunday 20th May 2018