Thames
Thames is a small coastal town, known as the gateway to the Coromandel. One of NZ's best-loved holiday destinations, Thames was built in the 1800s during the gold rush. more
Thames Directory Information
Please choose from the main accommodation, attractions, tours, transport or visitor information categories below for Thames, Coromandel, New Zealand.
Find By
Where Do You Want To Go?
This New Zealand map does not display any listings on the map itself but may provide navigation by clicking on map symbol. Alternatively select a category or a region from the main links to find and view tourism businesses.
View 3 events near Coromandel - Thames
Around the World in 80 Days - The Musical
From: Sat 16th Jun 2018
This fast paced comedy will take you on an adventurous journey around the globe, with Phileas Fogg and his manservant, Passepartout, all to win a gentleman's wager. Along the way they meet many challenges and ...
Where: Bella Street Pumphouse, Thames, The Coromandel
Address: Cnr Waiokaraka Road and Bella St, Thames, The Coromandel
From: 7:00pm on Saturday 16th June 2018
To: 9:30pm on Saturday 23rd June 2018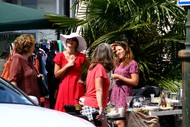 Thames Market
From: Fri 24th Apr 2015
Since the spring of 1995, Thames Market is open every Saturday; it has been and will be operating come rain or shine. More and more people enjoy the wide variety of stalls selling fruit, vegetables, plants, ...
Where: Grahamstown, Thames, The Coromandel
Address: Pollen Street, Thames, The Coromandel
From: 4:00pm on Friday 24th April 2015
To: 12:00pm on Saturday 29th September 2018
Kelvin Cruickshank Live (Soul Food)
Wed 11th Jul 2018
An Evening with NZ Medium Kelvin Cruickshank. With the outstanding success and popularity of TV2's award winning series "Sensing Murder", Kelvin has been literally swamped with people wanting to see him. For this ...
Where: Thames War Memorial Civic Centre, Thames, The Coromandel
Address: 200 Mary St, Thames, The Coromandel
From: 7:00pm on Wednesday 11th July 2018
To: 9:30pm on Wednesday 11th July 2018