Kuaotunu
Kuaotunu is a quiet, tranquil town located approximately 18 kilometres north of Whitianga, on the Coromandel Peninsula, in the Coromandel region. Kuaotunu beachside village has a beautiful, white sand beach offering ample opportunity to swim or fish. more
Kuaotunu's local store is famous for its delicious ice cream, and the nearby Matarangi golf course offers some great challenges for those of you who love to swing a club. Walkers will be delighted by the calls and songs of the native birds that live in the bush habitat nearby.
Kuaotunu Directory Information
Please choose from the main accommodation, attractions, tours, transport or visitor information categories below for Kuaotunu, Coromandel, New Zealand.
Find By
What Do You Want To Do?
Where Do You Want To Go?
This New Zealand map does not display any listings on the map itself but may provide navigation by clicking on map symbol. Alternatively select a category or a region from the main links to find and view tourism businesses.
View 1 events near Kuaotunu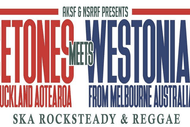 Acetones
Sat 19th Jan 2019
AceTones are purveyors of fine Jamaican music styles, from 60's ska and rocksteady to reggae and dub. Paying tribute to the greats, this four-piece instrumental band draws inspiration from founders of the styles such ...
Where: Lukes Kitchen, Kuaotunu, The Coromandel
Address: 20 Blackjack Road, Whitianga, Kuaotunu, The Coromandel
From: 7:30pm on Saturday 19th January 2019
To: 11:59pm on Saturday 19th January 2019