Winton
Winton is a small rural town located about half an hours drive north of Invercargill City, in the Southland region. Nestled near to the eastern banks of the Oreti River, Winton is located on State Highway 6, the main route from Invercargill to Queenstown. more
Winton Directory Information
Please choose from the main accommodation, attractions, tours, transport or visitor information categories below for Winton, Southland, New Zealand.
Find By
What Do You Want To Do?
Mobile-friendly - Located between Invercargill and Gore, 113 on Park in Winton offers attractive bed and breakfast accommodation with prices that can't be beat. Perfect to relax and unwind, Winton is on the main highway from Queenstown, in rural Southland. Two modern rooms, deluxe queen and deluxe twin with accommodation for up to four. Perfect for couples or family. Pets welcome.

Windermere, a working alpaca and llama farm, is located on tourist route State Highway 6 just south of Dipton in rural Southland. 30min drive from Invercargill. Our guided farm tours allow you to meet, photograph and learn about our friendly llamas and curious alpacas in a relaxed, picturesque environment. Our farm shop has alpaca-yarn, products & garments for sale.
Where Do You Want To Go?
This New Zealand map does not display any listings on the map itself but may provide navigation by clicking on map symbol. Alternatively select a category or a region from the main links to find and view tourism businesses.
View 4 events near Southland - Winton
Winton Community Market
From: Sat 16th Mar 2019
Come along and enjoy the welcoming atmosphere of Winton's well established monthly market. Held in the warmth of the Presbyterian Church Complex, there is so much to see. Many unique creations are to be found amongst ...
Where: Winton Presbyterian Church , Winton, Southland District
Address: 11 Meldrum Street, Winton, Southland District
From: 10:00am on Saturday 16th March 2019
To: 1:00pm on Saturday 21st December 2019
St John Workplace First Aid Training
Tue 24th Sep 2019
Attain your St John First Aid Level 1 certificate (valid for two years). Ideal for anyone who wants to learn basic first aid or needs to update their first aid qualification. Minimum qualification requirement for a ...
Where: St John's Rooms, Winton, Southland District
Address: 20 Brandon Street, Winton, Southland District
From: 8:30am on Tuesday 24th September 2019
To: 5:00pm on Tuesday 24th September 2019
Te Reo Maori for Beginners
From: Tue 17th Sep 2019
This six week course will take you through different aspects of pronunciation at a beginners level. The course will cover: - Practice, and implementing vowels & consonants - Basic everyday use of Te Reo Maori ...
Where: Southern REAP Inc., Winton, Southland District
Address: 224 Great North Road, Winton, Southland District
From: 6:30pm on Tuesday 17th September 2019
To: 8:30pm on Tuesday 5th November 2019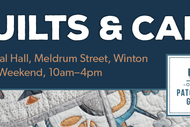 Quilts & Cake
From: Fri 25th Oct 2019
Otautau Patchwork Group have a new venue this year for their Annual Patchwork Exhibition. It will be in the Memorial Hall, Meldrum Street, Winton. Also new this year will be our Merchants Mall. We have a number of ...
Where: Winton War Memorial Hall, Winton, Southland District
Address: Cnr Meldrum & Park Streets, Winton, Southland District
From: 10:00am on Friday 25th October 2019
To: 4:00pm on Monday 28th October 2019