Te Aroha
Te Aroha is a lovely spa town located in Waikato, New Zealand. Overlooked by Mt Te Aroha, Te Aroha is rich in history. Discover the gold mining days of Waiorongomai Valley. more
Te Aroha Directory Information
Please choose from the main accommodation, attractions, tours, transport or visitor information categories below for Te Aroha, Waikato, New Zealand.
Find By
Soak in the natural, silky mineral water that has made Te Aroha famous for over 100 years. Relax and unwind in our beautiful wooden tubs that reflect our beautiful natural environment, nestled at the foot of Mount Te Aroha. Treat yourself or someone special to a relaxing soak, a romance package, or a massage or beauty treatment.

Te Aroha Motel is nestled under a majestic mountain of native New Zealand bush, known as the Te Aroha Mountain and poetically named "the mountain of love" or "the loved one". Indulge yourself in a luxurious mineral spa. Bookings recommended. Located in the domain next door to the motel.
Where Do You Want To Go?
This New Zealand map does not display any listings on the map itself but may provide navigation by clicking on map symbol. Alternatively select a category or a region from the main links to find and view tourism businesses.
View 3 events near Waikato - Te Aroha
Real Health NZ Summer Workout Series
Tue 22nd Jan 2019
Real Health NZ's 2018 Summer Workout Series is coming to Te Aroha! Real Health NZ are all about getting women moving more and fitting in physical activity! Join Ren & Jen on Tuesday the 22nd Jan 7.00pm at the ...
Where: Silver Fern Farms Events Centre, Te Aroha, Matamata-Piako
Address: 44 Stanley Ave, Te Aroha, Matamata-Piako
From: 7:00pm on Tuesday 22nd January 2019
To: 8:00pm on Tuesday 22nd January 2019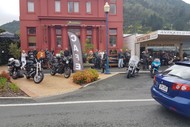 Te Aroha Annual Motorcycle & Classic Car Poker Run
From: Sat 23rd Feb 2019
Annual charity event in Te Aroha under the Te Aroha Mountain (Mountain of Love). All motorcycles and classic cars welcomed. Sign on from 8.30 am at Austins Bar & Bistro with ride leaving approximately 10.00am. Ride ...
Where: Austin's Bar & Bistro, Te Aroha, Matamata-Piako
Address: 174 Whitaker St, Te Aroha, Matamata-Piako
From: 8:30am on Saturday 23rd February 2019
To: 12:00am on Sunday 24th February 2019
A Day At the Domain Te Aroha
Sun 3rd Mar 2019
Come and join us for a family fun day at the beautiful Edwardian Te Aroha Hot Springs Domain. There will stalls, activities, entertainment, food and a teddies bears picnic to name a few!! See you there to celebrate ...
Where: Te Aroha Domain, Te Aroha, Matamata-Piako
Address: 102 Whitaker St, Te Aroha, Matamata-Piako
From: 10:00am on Sunday 3rd March 2019
To: 3:00pm on Sunday 3rd March 2019