Greymouth
At the heart of the West Coast is Greymouth, the commercial centre of the region. On your arrival to the West Coast you will be blown away by the scenery, the TranzAlpine train from Christchurch is recognised as one of the top train trips in the world and one form of public transport that you'll actually wish took a little bit longer. more
Greymouth and the surrounding Grey Valley areas boasts with heritage attractions, adventure activities and food from nature served up fresh onto your plate.
Cycle the easy West Coast Wilderness Trail through to Ross or visit Shantytown, a replica of an 1880's gold town. Get muddy in a family buggy or quad bike, go whitewater rafting, head up the Croesus Track for a scenic full day hike and then end your adventure with a good old local brew of Monteith's beer.
Take a moment to send a West Coast related E-Postcard to your friends.
Greymouth Directory Information
Please choose from the main accommodation, attractions, tours, transport or visitor information categories below for Greymouth, West Coast, New Zealand.
Find By
Where Do You Want To Go?
This New Zealand map does not display any listings on the map itself but may provide navigation by clicking on map symbol. Alternatively select a category or a region from the main links to find and view tourism businesses.
View 5 events near West Coast - Greymouth
Live Music at Monteith's Brewery
From: Sat 28th May 2022
Tunes at the Brewery On the last Saturday of every month, we are bringing the tunes to town! Kicking off on Saturday, 28th May when we welcome the acoustic group The Brewery Hill Band. Come on down and get your ...
Where: Monteith's Brewing Co, Greymouth, Grey
Address: 60 Herbert St, Greymouth, Grey
From: 6:00pm on Saturday 28th May 2022
To: 9:00pm on Saturday 30th July 2022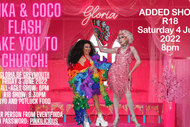 Erika & CoCo Take You To Church!
From: Fri 3rd Jun 2022
All-Ages show with drag queens Erika & CoCo Flash all the way from Taranaki. Have a glamourously pink night out with live singing, lip synching, dancing, games and laughter at Sam's stunning Gloria of Greymouth ...
Where: Gloria of Greymouth (Pink Church), Greymouth, Grey
Address: 77 Packers Quay, Blaketown, Greymouth, Grey
From: 6:00pm on Friday 3rd June 2022
To: 10:00pm on Saturday 4th June 2022
Matariki Glow Show
Wed 29th Jun 2022
The MATARIKI GLOW SHOW is back with an all-new, giant-scale puppet show for tamariki, educators and whãnau. The Glow Show's magical glow-in-the-dark characters are getting ready to celebrate with you at 40 theatres ...
Where: Regent Theatre, Greymouth, Grey
Address: Cnr Mackay & Herbert Sts, Greymouth, Grey
From: 10:00am on Wednesday 29th June 2022
To: 12:25pm on Wednesday 29th June 2022
CPD Roadshow 2022
Thu 21st Jul 2022
By attending one of our sessions, you will be meeting the CPD requirement towards renewing your practising license for 2023-2024 This Roadshow will be held in Greymouth on 21/07/22 in the morning. This session does ...
Where: Shantytown, Greymouth, Grey
Address: Rutherglen Rd, Paroa, Greymouth, Grey
From: 8:00am on Thursday 21st July 2022
To: 10:30am on Thursday 21st July 2022