Kaikoura
Earthquake Travel Advisory - Kaikoura in Canterbury, New Zealand is a small coastal seaside resort town and a very popular destination for both local and international travellers. Kaikoura is well know for its crayfish and marine life and famous for whale watching and swimming with the dolphins. Kaikoura is situated midway between Christchurch and Picton on the east coast of the South Island and is close to the rugged mountain range running the length of New Zealand. more
Kaikoura is about 2 hours drive from Christchurch and 2 hours drive from Picton. The drive in either direction offers stunning coastal scenery for large parts of the journey. The Tranz Coastal Pacific train is an alternative way of getting to Kaikoura and is considered one of the most scenic train journeys in the world.
With a population of about 4,000, Kaikoura has a fascinating history with whaling established the town in 1843. Whaling ceased in 1964 and the township turned to its marine attractions to establish a wide range of water based tourism activities as well as other eco-tourism orientated activities.
The weather in Kaikoura varies from about 10 degrees Celsius in winter to an average of 22 degrees Celsius in summer.
There is plenty to see and do in Kaikoura including whale watching, swimming with the dolphins, walks, fishing, bird watching, visiting the seal colony, shopping, dining and generally relaxing by the sea. Fishing in Kaikoura is considered some of the best in New Zealand, and it is this bounty that attracts so many whales and dolphins to its shores.
Accommodation in Kaikoura is extensive with a good selection of hotels, motels, apartments through to backpackers and budget accommodation.
Kaikoura is part of the popular and scenic Alpine Pacific Triangle, a touring route which links it with the Hurunui district including Hanmer and Christchurch.
Fur seals lounge on rocks just metres from the shore, dusky and Hector's dolphins frolic in the sea within sight of town, while only a few kilometres further out, giant sperm whales haunt the depths.
Take a moment to send a Kaikoura related E-Postcard to your friends.
Find By
Where Do You Want To Go?
This New Zealand map does not display any listings on the map itself but may provide navigation by clicking on map symbol. Alternatively select a category or a region from the main links to find and view tourism businesses.
View 3 events near Canterbury - Kaikoura
Kaikoura Aftershock Adventure
From: Sat 26th May 2018
This is South Pacific Helicopters NZ's exclusive flight that showcases natures force, the geological and environmental changes to Kaikoura coastal areas, mountain ranges, rivers and infrastructure. South Pacific ...
Where: South Pacific Whale Watch, Kaikoura, Canterbury
Address: 72 West End, Kaikoura, Canterbury
From: 2:00pm on Saturday 26th May 2018
To: 2:40pm on Saturday 29th September 2018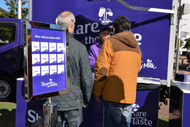 Cadbury Dairy Milk - Share the Taste Road Trip
Mon 25th Jun 2018
New Zealanders live busy lives, so Cadbury wants to bring Kiwis together across the country to share a moment with someone they care about. The Cadbury team will spend six weeks road tripping throughout the country ...
Where: West End Car Park, Kaikoura, Canterbury
Address: 53 West End
From: 3:00pm on Monday 25th June 2018
To: 6:00pm on Monday 25th June 2018
Katchafire
Fri 21st Sep 2018
Hot on the heels of their 5th studio album release 'LEGACY', Katchafire hit New Zealand for their annual winter tour with 11 shows in August and September. The latest offering from the band has seen them hit no.1 on ...
Where: Kaikoura Memorial Hall, Kaikoura, Canterbury
Address: 32 Esplanade, Kaikoura, Canterbury
From: 7:00pm on Friday 21st September 2018
To: 11:00pm on Friday 21st September 2018
What Do You Want To Know?