Queenstown
Queenstown the "Adventure Capital of New Zealand", is one of the most wild and iconic of the top tourist destinations in New Zealand. Located in the south-western, unspoilt, alpine region of of the South Island, Queenstown is built around a pristine inlet on the sparkling Lake Wakatipu and is nestled in amongst towering rugged mountains including The Remarkables, Cecil Peak, Walter Peak, Ben Lomond and Queenstown Hill. The region around Queenstown is characterised by jagged mountain ranges, deep canyons, wild cascading rivers, crystal-clear lakes, rain forest, tussock grassland and fresh mountain air – in short this region one of nature's finest marvels. Queenstown is 483km from Christchurch – a 5 and a half hour drive away or 50 minute flight. more
Queenstown hosts a truly impressive list of adventure activities to enjoy – being a leading pioneer in all things outdoor and adventure, it was here jet-boating and bungy jumping were first commercialised. Queenstown prides itself in multitudes of activities in every category for every traveller – no matter whether you are seeking the heart-pumping adventure, or the eye-popping scenic tour, or the thrilling slope to ski or a lively nightlife – all are found here.
Seeking the adrenaline-pumping, hair-raising, heart-thumping adventure of a lifetime? Queenstown boasts an incredible slew of options including: white-water rafting, jet-boating, bungy jumping, paragliding, mountain biking, rock climbing, canyoning, as well as New Zealand's largest swing strung across a mountain canyon and – true to Queenstown's spirit of fun and adventure – you choose how you would like to plummet down at 120km/hr (forwards, backwards, upside down or many other positions).
Want a little more quiet and relaxation in your Queenstown experience? No problem! Create your selection from the raft of quieter activities on offer including – scenic helicopter tours, cross country biking, trout and salmon fishing, vintage steamboat cruising, wine-tasting in some of the world's southernmost wineries, guided hiking or Segway touring. Alternatively, take a day out golfing on one of Queenstown's splendid golf courses at the very foot of great imposing mountain ranges – or else wonder off on your own on an adventurous hike in New Zealand's alpine wilderness or just explore this region by car where every sight around every bend is a ready-made postcard.
Go into the town and you will find a lively night-life, romantic cafes and restaurants, scenic water front, fantastic shopping as well as spa treatments and gourmet dining. Take the gondola up the mountain slope and enjoy breath-taking views of Queenstown as you relax wining and dining over the town. Walk along the waterfront and check out Queenstown's underwater observatory and watch the fish and eels swimming alongside diving ducks.
Come in the winter and find the town transformed into a world class ski resort. Breathe deeply the fresh mountain air as you ski the slopes of Queenstown's dramatic mountain slopes. Alternatively, enjoy other winter sports on offer like – ice skating, ice climbing and snow-shoeing. Queenstown celebrates the snow season with gusto in a busy, lively winter festival, The Queenstown Winter Festival.
Centrally located, Queenstown is also a great base to explore the wider region. Take a day trip and chill at Arrowtown – a quaint gold-rush era resort town where the autumn colours are truly something to behold, or drive to Wanaka – another of the South Island's great alpine resorts known for its superb ski fields and outdoor activities. Alternatively book an excursion to the world famous Milford or Doubtful Sounds in the World Heritage listed Fiordland National Park – one of New Zealand's most spectacular landscapes and certainly one if it's finest jewels.
As one of New Zealand's most popular holiday destinations, accommodation is plentiful here. Queenstown motels, five-star hotels, luxury and budget apartments, homely bed and breakfasts, luxury lodges, quaint retreats, holiday homes, and cabins and camping grounds are just some of the accommodations available. During festival and high seasons, budget accommodation can fill up quickly.
Take a moment to send a Queenstown related E-Postcard to your friends.
Find By
Featured
Located just 2 minutes drive from Queenstown Airport and only 7 minutes from the central city, Ramada Remarkables is the first hotel in the region situated with easy access to the airport. Featuring stylish and spacious apartments that incorporate a modern design with contemporary furnishings, flat screen TV, quality European kitchen appliances and free WiFi.
Where Do You Want To Go?
This New Zealand map does not display any listings on the map itself but may provide navigation by clicking on map symbol. Alternatively select a category or a region from the main links to find and view tourism businesses.
View 70 events near Queenstown
Tourism Tech Expo 2019
Fri 23rd Aug 2019
Tourism Tech Expo & Showcase is an event that brings together tourism, hospitality, and adventure tech companies with investors and operators for a high energy, fast-paced pitch and demo day. Presented by Startup ...
Where: Queenstown Memorial Centre, Queenstown
Address: 1 Memorial Drive, Queenstown
From: 9:00am on Friday 23rd August 2019
To: 6:00pm on Friday 23rd August 2019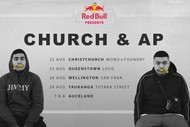 Church & AP
Fri 23rd Aug 2019
Fresh from the release of their compelling new track 'Dandelion', 'Ready or Not' rappers Church & AP announce their biggest New Zealand tour yet. The tour sees Church & AP stepping up to bigger venues, giving more ...
Where: Loco, Queenstown
Address: 49 Shotover Street, Queenstown
From: 8:00pm on Friday 23rd August 2019
To: 11:59pm on Friday 23rd August 2019
Darryn George: Māra (2019)
From: Sat 3rd Aug 2019
Within many regimented series, there is a wildness lurking beneath the surface ready to break out at any opportunity. So, it seems, is the case with Darryn George's art. George has been for many years associated with a ...
Where: Milford Galleries Queenstown, Queenstown
Address: 9a Earl Street, Queenstown
From: 10:00am on Saturday 3rd August 2019
To: 6:00pm on Tuesday 27th August 2019
Snow & Bass (Winters End) 2019
From: Sat 24th Aug 2019
After a Sell Out Weekend at Queenstown Winterfest, Snow & Bass is back for a Special End of Winter editon. - The Upbeats - Dose - Aroha - Sunshine Sound System Queenstowns favourite winter party is back for ...
Where: Loco, Queenstown
Address: 49 Shotover Street, Queenstown
From: 9:00pm on Saturday 24th August 2019
To: 4:00am on Sunday 25th August 2019
Battle of The Cuisines 2019 Final
Thu 29th Aug 2019
Our final Battle of the Cuisines for 2019 is here, where you can enjoy the flavors of our top 2019 cuisine dishes. Go for seconds (or thirds) to make sure you decide who the real winner is at the end. All you can eat ...
Where: Threesixty Restaurant @ Crowne Plaza, Queenstown
Address: 93 Beach St, Queenstown
From: 5:30pm on Thursday 29th August 2019
To: 7:30pm on Thursday 29th August 2019
Mountain Passes and Pride Bus options
From: Fri 30th Aug 2019
***Tickets available until August 1st @ 12:00pm*** Get your mountain passes for Winter Pride's festival mountain partners Cardrona, Coronet Peak and The Remarkable (NZSki) - and enjoy our free Winter Pride mountain ...
Where: Winter Pride 2019, Queenstown
Address:
From: 12:00pm on Friday 30th August 2019
To: 12:00pm on Monday 9th September 2019
Kickstart Friday
From: Fri 30th Aug 2019
This year, for the first time, we are going to kickstart Winter Pride with a casual Friday for all early arrivals, brought to you as part of the DUREX Pride Party Series. Join DJ's Modella and Mark Rush as you start ...
Where: Smiths - Craft Beer House, Queenstown
Address: 53 Shotover Street, Queenstown
From: 7:00pm on Friday 30th August 2019
To: 1:00am on Saturday 31st August 2019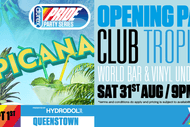 Winter Pride '19 Opening Party "Club Tropicana"
From: Sat 31st Aug 2019
Come and join us for the Winter Pride Opening Party @ TWO adjoining venues: The World Bar and Vinyl Underground, brought to you as part of the DUREX PRIDE PARTY SERIES. Doors open at 9pm for the Official Opening ...
Where: The World Bar, Queenstown
Address: 12 Church Lane, Queenstown
From: 9:00pm on Saturday 31st August 2019
To: 4:00am on Sunday 1st September 2019
Onsen Hot Pool - Indoor Pool Bookings
From: Sat 31st Aug 2019
An Onsen Hot Pools experience is one of the must do's of any getaway to Queenstown. It's one of life's small delights that can be enjoyed with friends in one of the district's most scenic spots. This year, we have two ...
Where: Onsen Hot Pools, Queenstown
Address: 160 Arthurs Point Rd, Queenstown
From: 5:00pm on Saturday 31st August 2019
To: 7:00pm on Sunday 8th September 2019
Symphonic Spectacular - Dunedin Symphony Orchestra
Sat 31st Aug 2019
On 31 August the rare sound of a symphony orchestra will fill the Wakatipu High School's Theatre. For the first time the Dunedin Symphony Orchestra (DSO) will be performing in Queenstown and will perform music from ...
Where: Wakatipu High School, Queenstown
Address: 47-49 Red Oaks Dr, Queenstown
From: 7:30pm on Saturday 31st August 2019
To: 9:30pm on Saturday 31st August 2019
What Do You Want To Know?