Queenstown
Queenstown the "Adventure Capital of New Zealand", is one of the most wild and iconic of the top tourist destinations in New Zealand. Located in the south-western, unspoilt, alpine region of of the South Island, Queenstown is built around a pristine inlet on the sparkling Lake Wakatipu and is nestled in amongst towering rugged mountains including The Remarkables, Cecil Peak, Walter Peak, Ben Lomond and Queenstown Hill. The region around Queenstown is characterised by jagged mountain ranges, deep canyons, wild cascading rivers, crystal-clear lakes, rain forest, tussock grassland and fresh mountain air – in short this region one of nature's finest marvels. Queenstown is 483km from Christchurch – a 5 and a half hour drive away or 50 minute flight. more
Queenstown hosts a truly impressive list of adventure activities to enjoy – being a leading pioneer in all things outdoor and adventure, it was here jet-boating and bungy jumping were first commercialised. Queenstown prides itself in multitudes of activities in every category for every traveller – no matter whether you are seeking the heart-pumping adventure, or the eye-popping scenic tour, or the thrilling slope to ski or a lively nightlife – all are found here.
Seeking the adrenaline-pumping, hair-raising, heart-thumping adventure of a lifetime? Queenstown boasts an incredible slew of options including: white-water rafting, jet-boating, bungy jumping, paragliding, mountain biking, rock climbing, canyoning, as well as New Zealand's largest swing strung across a mountain canyon and – true to Queenstown's spirit of fun and adventure – you choose how you would like to plummet down at 120km/hr (forwards, backwards, upside down or many other positions).
Want a little more quiet and relaxation in your Queenstown experience? No problem! Create your selection from the raft of quieter activities on offer including – scenic helicopter tours, cross country biking, trout and salmon fishing, vintage steamboat cruising, wine-tasting in some of the world's southernmost wineries, guided hiking or Segway touring. Alternatively, take a day out golfing on one of Queenstown's splendid golf courses at the very foot of great imposing mountain ranges – or else wonder off on your own on an adventurous hike in New Zealand's alpine wilderness or just explore this region by car where every sight around every bend is a ready-made postcard.
Go into the town and you will find a lively night-life, romantic cafes and restaurants, scenic water front, fantastic shopping as well as spa treatments and gourmet dining. Take the gondola up the mountain slope and enjoy breath-taking views of Queenstown as you relax wining and dining over the town. Walk along the waterfront and check out Queenstown's underwater observatory and watch the fish and eels swimming alongside diving ducks.
Come in the winter and find the town transformed into a world class ski resort. Breathe deeply the fresh mountain air as you ski the slopes of Queenstown's dramatic mountain slopes. Alternatively, enjoy other winter sports on offer like – ice skating, ice climbing and snow-shoeing. Queenstown celebrates the snow season with gusto in a busy, lively winter festival, The Queenstown Winter Festival.
Centrally located, Queenstown is also a great base to explore the wider region. Take a day trip and chill at Arrowtown – a quaint gold-rush era resort town where the autumn colours are truly something to behold, or drive to Wanaka – another of the South Island's great alpine resorts known for its superb ski fields and outdoor activities. Alternatively book an excursion to the world famous Milford or Doubtful Sounds in the World Heritage listed Fiordland National Park – one of New Zealand's most spectacular landscapes and certainly one if it's finest jewels.
As one of New Zealand's most popular holiday destinations, accommodation is plentiful here. Queenstown motels, five-star hotels, luxury and budget apartments, homely bed and breakfasts, luxury lodges, quaint retreats, holiday homes, and cabins and camping grounds are just some of the accommodations available. During festival and high seasons, budget accommodation can fill up quickly.
Take a moment to send a Queenstown related E-Postcard to your friends.
Find By
Featured
Sudima Queenstown Five Mile is a new 4.5-star hotel in the bustling Frankton area conveniently located close to the Airport and main road to the surrounding ski fields and routes north and south. With views of the surrounding landscapes, high quality fit-out, well-appointed rooms, restaurant, bar, bike and ski storage and free parking, it represents 4.5-star style, comfort and value.
Where Do You Want To Go?
This New Zealand map does not display any listings on the map itself but may provide navigation by clicking on map symbol. Alternatively select a category or a region from the main links to find and view tourism businesses.
View 54 events near Queenstown
Luxury Dinner Show
From: Fri 5th Aug 2022
Live music dinner shows Friday and Saturday from 6:30 to 10pm. Enjoy a variety of music while exploring the cuisine of our Executive chef Thomas Barter who earned Michelin Star experience working on the kitchen of ...
Where: The Carlin Boutique Hotel, Queenstown
Address: 43 Hallenstein Street, Queenstown
From: 6:30pm on Friday 5th August 2022
To: 10:00pm on Saturday 13th August 2022
Fiordland Photography Expedition - 7 Days: CANCELLED
From: Mon 1st Aug 2022
Experience the grand scale scenery, untamed wilderness, ice-carved mountains, forests, sounds and unique wildlife of Fiordland's Preservation and Chalky Inlets and Doubtful and Dusky Sounds on this 7-day exploration of ...
Where: Queenstown Airport, Queenstown
Address: Sir Henry Wigley Dr, Queenstown
From: 9:00am on Monday 1st August 2022
To: 5:00pm on Sunday 7th August 2022
Neil Adcock: Kaitiaki (2022)
From: Fri 22nd Jul 2022
Few materials speak more of Aotearoa and its history than pounamu and kauri amber. In the hands of Neil Adcock, these materials openly display the mana in which they are held. The rock and the organic resin sing. His ...
Where: Milford Galleries Queenstown, Queenstown
Address: 9a Earl Street, Queenstown
From: 10:00am on Friday 22nd July 2022
To: 6:00pm on Monday 15th August 2022
Simon Edwards: Prospector (2022)
From: Fri 22nd Jul 2022
Simon Edwards' latest exhibition shows a further growth in the sensuous yet unsettling landscapes he creates, inspired by the rugged New Zealand countryside. Colour is retained in this latest display, albeit in a ...
Where: Milford Galleries Queenstown, Queenstown
Address: 9a Earl Street, Queenstown
From: 10:00am on Friday 22nd July 2022
To: 6:00pm on Monday 15th August 2022
Hei Tiki Aroha - Jimmy James Kouratoras Exhibition
From: Thu 4th Aug 2022
Jimmy James Kouratoras's 'Hei Tiki Aroha' - Front Room Exhibition will be on show from the 4th - 31st August. We welcome all to the opening night; 4th August 5pm - 7pm. As a part of the First Thursday's ...
Where: Artbay Gallery, Queenstown
Address: 13 Marine Parade, Queenstown
From: 5:00pm on Thursday 4th August 2022
To: 5:00pm on Wednesday 31st August 2022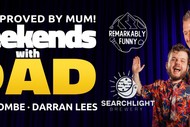 Weekends With Dad - Queenstown Comedy Show : POSTPONED
Sat 6th Aug 2022
Tickets only $15 or very special 4 for $50 Weekends with Dad brings together Auckland's best known and loved "father and son" comedy combo Coombe and Darran Lees. New Zealander Coombe and British born Darran are ...
Where: Searchlight Brewery, Queenstown
Address: 12 Industrial Place, Queenstown
From: 7:00pm on Saturday 6th August 2022
To: 8:00pm on Saturday 6th August 2022
Snow & Bass x Winter Meltdown Festivals 2022
From: Sat 6th Aug 2022
Breaking Beats & Shucka PresentS SNOW & BASS X WINTER MELTDOWN. Tickets are now live.. www.ticketfairy.com/r/15661/844524 Queenstown - 6th August. Wanaka - 27th August. Two Winter Festivals Join Forces for two ...
Where: Queenstown Memorial Centre, Queenstown
Address: 1 Memorial Drive, Queenstown
From: 6:00pm on Saturday 6th August 2022
To: 1:00am on Sunday 7th August 2022
Queenstown Taijiquan (Tai Chi) Classes
From: Sat 2nd Jul 2022
Chen Style Taijiquan (Tai Chi) Practical Method is the very traditional Chinese martial art! The theory is a complex and complete system. The principles are unique, clear and strict. We follow the way of ancients to ...
Where: Shotover Primary School Community Hall, Queenstown
Address: Stalker Road, Shotover Country, Queenstown
From: 12:00pm on Saturday 2nd July 2022
To: 5:00pm on Saturday 15th October 2022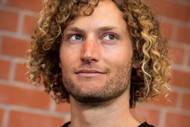 Jonathan Falconer (USA) @ Beech Tree
Sun 7th Aug 2022
Blowout Comedy is proud to bring Jonathan Falconer (USA) to Queenstown at Beech Tree! The charming, smart and hilarious Falconer is fresh from a successful comedy tour of his home country. A comedy veteran Falconer ...
Where: Beech Tree, Queenstown
Address: 11-13 Beach St, Queenstown
From: 7:00pm on Sunday 7th August 2022
To: 11:59pm on Sunday 7th August 2022
Winter Bottomless Brunch at Margo's
From: Sun 5th Jun 2022
Queenstown's hottest Mexican restaurant & bar does WINTER BOTTOMLESS BRUNCH! Not quite breakfast, not quite lunch - but the perfect excuse to get your weekend started this Winter with some of head chef, Matt's ...
Where: Margo's Queenstown, Queenstown
Address: 26 Ballarat Street, Queenstown
From: 12:00pm on Sunday 5th June 2022
To: 2:00pm on Saturday 22nd October 2022
What Do You Want To Know?