Canterbury
Welcome to Canterbury! A place where coastal and mountain experiences combine to make a place where there's something hair-raisingly thrilling, day-dreamingly relaxing and breath-takingly beautiful for every traveller. In Canterbury you'll find many worlds within one region. Popular tourism destinations in Canterbury include Christchurch City, Hanmer Springs, Timaru, Lake Tekapo and Mt Hutt. more
Canterbury is the South Island's largest region, it is the region of stark contrasts. The region is home to both New Zealand's largest plains – the Canterbury plains with intensive pastoral farming and New Zealand's highest mountains – Mount Cook. It is home to the South Island's largest city of Christchurch and some of the country's most remote wildernesses. It is a land of dramatic mountain ranges, cascading rivers, unbelievably glacial-flour-coloured lakes, rolling hills, flat plains, dramatic coastlines, glaciers, wineries and much more.
Enlarge your itinerary with Canterbury's huge range of activities including numerous ski resorts, skydiving, bungy jumping, hot air ballooning, trout and salmon fish, chartered sea fishing, whale, dolphin and seal watching, hot-water springs, hiking, Lord of the Rings tours, farm tours, jetboating, wine tasting, glacier climbing, mountaineering, mountain biking to name only a few activities. Canterbury has a selection of activities for everyone including thrill-seekers, families, backpackers, honeymoon makers, groups and elderly.
The mid coastal region of Canterbury is dominated by the large pastoral Canterbury plains, Christchurch and numerous towns. The Canterbury plains are intensively farmed with dairy, sheep, beef and deer faming and is the economic and population centre of the South Island. The town Methven (located on the Canterbury plains at the foot of the towering mountains as they ascend dramatically out of the plain) is the gateway for the popular Mt Hutt ski resort – a thirty minute drive away.
The north is mountainous and dry, boasting most of the region's wineries – especially in the Waipara region. Secluded in its own valley is the South Island's most popular hot-springs resort as well as popular ski resort – Hanmer Springs. And to the far north is the popular coastal town of Kiakoura – a prime base for a host of wildlife encounters and famous for its whales, fur seals and dolphins who live permanently on this coast. Kiakoura is scenic mountainous region with a dramatic coastline showcasing many mountains descending down into the sea. Take a drive long the Kiakoura coastal highway you are sure to see many fur seals resting on the rocks.
The western inland regions (also known as "McKenzie Country") are dry and mountainous. This region includes many of New Zealand's alpine lakes including famous lakes of Tekapo and Pukaki – these lakes are unique in New Zealand for their distinctive glacial hue. This region is dominated by towering snow-capped mountain ranges, deep glacier cut valleys, tussock grasslands and wild gushing rivers. Mount Cook, New Zealand's tallest mountain, is found here and from it tumbles New Zealand's longest glacier – the Tasman Glacier – measuring 27 kilometres long. Mt. Hutt is a popular ski resort found close to the Canterbury plains region. Two of the three mountain passes crossing east-west across the Southern Alps are found here namely, Arthurs Pass and Lewis Pass – these are two of the most spectacular alpine drives in the country.
Canterbury's south is dominated by scenic rolling hills and pastoral farming. The largest town is Timaru.
Canterbury has a massive range of accommodation options encompassing five-star accommodation, budget motor lodges and motels, luxury alpine lodges and retreats, cheap backpacker accommodation, camping grounds, self-catering apartments, villas, among other options. Regardless of your needs – be it conferencing or assessable accommodation – Canterbury has the right accommodation options for you.
Take a moment to send a Canterbury related E-Postcard to your friends.
Find By
Where Do You Want To Go?
This New Zealand map does not display any listings on the map itself but may provide navigation by clicking on map symbol. Alternatively select a category or a region from the main links to find and view tourism businesses.
View 506 events near Canterbury
School Holiday Art Programme - Visions Art Studio
From: Tue 11th Jan 2022
Art Teacher Moire Mathieson teaching all art mediums - every session except Tuesday afternoons Art Teacher Ankita Saha, teaching in pastels and acrylic - Tuesday afternoons Significance of Creativity - Painting in ...
Where: Visions and Vino Art Studio, Christchurch
Address: 1060 Ferry Road, Ferrymead, Christchurch
From: 11:00am on Tuesday 11th January 2022
To: 2:00pm on Friday 28th January 2022
Minute-Taking Training Course
From: Tue 25th Jan 2022
The PD Training Minute Taking Training course will enable you to understand the important role of a minute-taker as well as efficiently recording all the important information discussed. Learn key skills like deciding ...
Where: Auldhouse, Christchurch
Address: 13 Stanley Street, Sydenham, Christchurch
From: 9:00am on Tuesday 25th January 2022
To: 4:30pm on Friday 24th June 2022
Fat Eddie's Live Band Karaoke: CANCELLED
From: Tue 11th Jan 2022
Always felt that you were made for the stage? Love performing? Love belting out your favourite song? Take part in Fat Eddie's Live Band Karaoke every Tuesday night 8.30pm. Choose from the list of songs below and rock ...
Where: Fat Eddie's, Christchurch
Address: 76 Hereford St, Christchurch
From: 8:30pm on Tuesday 11th January 2022
To: 12:00am on Wednesday 2nd February 2022
Every Tuesday Quiz Nights
From: Tue 18th Jan 2022
Richard Pearse Tavern will be hosting Quiz Nights every Tuesday. So, please feel free to book yourself and your friends a table and enjoy the fun Quiz nights with a couple of beers and snacks. Contact Richard Pearse ...
Where: Richard Pearse Tavern, Timaru, South Canterbury
Address: 118 Le Cren Street, Timaru, South Canterbury
From: 6:00pm on Tuesday 18th January 2022
To: 11:59pm on Tuesday 1st February 2022
School Holiday Horse Riding - Lessons and Holiday Programmes
From: Thu 30th Dec 2021
Join us for half a day or more with our educational and fun holiday programmes. Learn how to create a unique bond with horses and ponies, make a new friend in the equine or human form, enjoy an outdoor activity and ...
Where: Abi's Natural Horsemanship and Riding School, Lincoln, Selwyn
Address: Court Road, Lincoln, Selwyn
From: 9:30am on Thursday 30th December 2021
To: 4:45pm on Friday 28th January 2022
Dux Central Pub Quiz
From: Tue 18th Jan 2022
Dux Pub Quiz is back for 2022!! Get your team together and enter into our quiz night to win some EPIC PRIZES. Bar tabs to be won, drinks and food specials for participants - Dux quiz night is one you don't want to ...
Where: Dux Central, Christchurch
Address: 6 Poplar Lane, Christchurch
From: 7:00pm on Tuesday 18th January 2022
To: 11:59pm on Tuesday 15th February 2022
Soft Carnage - Return Season
From: Tue 25th Jan 2022
**The show IS going ahead in red light, see you there!** 2021 NZ Intl. Comedy Festival Billy T Award winner Brynley Stent brings her sold-out, critically-acclaimed comedy show Soft Carnage back to Little Andromeda! ...
Where: Little Andromeda Theatre, Christchurch
Address: Level 1, 134 Oxford Terrace, Christchurch
From: 7:00pm on Tuesday 25th January 2022
To: 8:00pm on Saturday 29th January 2022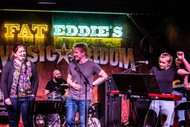 Live Band Karaoke
From: Tue 25th Jan 2022
Do you love to sing? Do you want to experience the stage with a live band? Well, every Tuesday night at Fat Eddies you have the opportunity to sing on stage with Black & Gold band. This event is welcome to anyone no ...
Where: Fat Eddie's, Christchurch
Address: 76 Hereford St, Christchurch
From: 8:30pm on Tuesday 25th January 2022
To: 12:00am on Wednesday 23rd February 2022
The Secret Society
From: Fri 1st Oct 2021
The Secret Society is the latest outdoor experience from the CodeBreakers Team. This multiple team player game is unlike anything you've played before. Set in the heart of Christchurch, teams will play against each ...
Where: CodeBreakers, Christchurch
Address: 166 St Asaph St, Christchurch
From: 10:00am on Friday 1st October 2021
To: 7:00pm on Tuesday 1st February 2022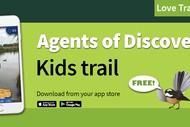 Agents of Discovery Travis Wetland Ōruapaeroa
From: Fri 24th Dec 2021
Check out our Agents Of Discovery games app. Solve fun challenges while exploring Travis Wetland Ōruapaeroa. The Agents of Discovery app uses augmented reality to interact with the world around you and is free to ...
Where: Travis Wetland Nature Heritage Park, Christchurch
Address: 280 Beach Rd, Burwood, Christchurch
From: 9:00am on Friday 24th December 2021
To: 5:00pm on Monday 31st January 2022
What Do You Want To Know?