Coromandel
Coromandel is one of New Zealand's most popular and stunning tourist regions boasting a dazzling mountainous and coastlines a short drive from Auckland. The Coromandel Peninsula sports picturesque beaches and whole range of attractions and activities such as historical tours, diving, hiking, fishing, kayaking and soaking in natural hot spring beaches. Coromandel's main towns and settlements are Coromandel Town, Waihi, Tairua, Pauanui, Whitianga, Thames and Whangamata. The Coromandel Peninsula's mountainous and rugged landscapes together with its stunning golden beaches, natural hideaways and mist laden forests are sure to leave you breathless and spellbound. more
Coromandel accommodation ranges from luxury hotels and resorts to holiday parks and camping grounds to backpacker's accommodation to bed and breakfasts and holiday homes.
Coromandel attractions will keep you entertained with plenty to see and explore as you explore some of New Zealand's most stunning coastlines. Come on a deep sea fishing adventure, alternatively, jump in the water and swim with dolphins. Go deeper under the waves and go scuba diving and discover the mysterious world lurking beneath the waves. On land take a guided hike into the mountains and forests, go for a cycling tour or bathe in the refreshing waters of the hot springs bubbling to the surface in sandy beaches or go to one of a number of thermal pools. Return to the water with a kayaking adventure or an overnight cruise and discover the dazzling coastlines from a new perspective.
Coromandel is one of New Zealand's premium touristic destinations and there's plenty for everyone regardless of your budget or preferences.
Make sure you check out the 'World famous in New Zealand' Lemon and Paeroa (L&P) iconic 7 metre high bottle located in Paeroa - great for a photo.
Find By
Where Do You Want To Go?
This New Zealand map does not display any listings on the map itself but may provide navigation by clicking on map symbol. Alternatively select a category or a region from the main links to find and view tourism businesses.
View 3 events near Coromandel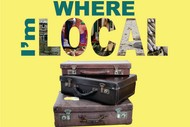 Ask Where I'm Local
From: Fri 10th May 2019
Personal works from 14 Coromandel artists, exploring the questions raised by Taiye Selasi's TED. Talk: Don't ask where I'm from – Ask where I'm local. - What does it mean to us to be local? - Or, for ...
Where: Hauraki House Gallery, Coromandel, The Coromandel
Address: Kapanga Rd, Coromandel, The Coromandel
From: 5:30pm on Friday 10th May 2019
To: 4:00pm on Sunday 26th May 2019
MEG Winter Lecture - Mike Joy - The Future of Food and Energ
Sun 7th Jul 2019
Dr Mike Joy: Mike is a Senior Lecturer in Ecology and Environmental Science at the Ecology group-Institute of Agriculture and Environment Massey University Palmerston North. He researches and teaches freshwater ...
Where: The Peppertree, Coromandel, The Coromandel
Address: 31 Kapanga Rd, Coromandel, The Coromandel
From: 7:00pm on Sunday 7th July 2019
To: 8:15pm on Sunday 7th July 2019
Missy Raines Trio Featuring George Jackson and Ben Garnett
Thu 31st Oct 2019
With a smoky and seductive alto, Missy Raines heads up her own innovative and genre-bending trio out of Nashville, Tennesee; a rich, jazz-tinged combination of her bluegrass roots and thick Americana. The trio features ...
Where: Hauraki House Theatre, Coromandel, The Coromandel
Address: Kapanga Rd, Coromandel, The Coromandel
From: 7:30pm on Thursday 31st October 2019
To: 10:30pm on Thursday 31st October 2019
What Do You Want To Know?