Christchurch
Christchurch City is alive with colour, atmosphere and world-class attractions, including the International Antarctic Centre, Orana Park and Willowbank Wildlife Park. Christchurch is known internationally as the "Garden City" because of its spectacular gardens. Christchurch is by far the largest city in the South Island and is home to the most busy airport in the South Island. Christchurch is also home to a number of excellent cafes, bars and restaurants. Many popular destinations such as Kaikoura, Lyttelton, Sumner, Akaroa and the Banks Peninsula, Mt Hutt and South Canterbury are less than two hours drive from Christchurch. more
Christchurch was significantly damaged by a series of earthquakes between 2010 and 2012 and has since been extensively rebuilt. Christchurch is a both a great destination for those looking for city attractions and comfort as well as being the South Island's most important hub.
Christchurch attractions offer a full range of activities both in and around the city for all ages and preferences such as horse riding, jetboating, guided hiking tours, fine restaurants, wineries, scenic flights and much more. Christchurch accommodation offers a comprehensive range of options and caters for all needs with a selection of 5 Star accommodation, backpackers accommodation, motels, lodges, bed and breakfasts and much more.
» Read More Information about Christchurch
» Find Self Driving Routes in Christchurch
Find By
Where Do You Want To Go?
This New Zealand map does not display any listings on the map itself but may provide navigation by clicking on map symbol. Alternatively select a category or a region from the main links to find and view tourism businesses.
View 559 events near Christchurch
Zirka Circus
From: Thu 21st Mar 2019
Zirka Circus, New Zealand's premium circus, is proud to bring you its 5th tour "La Unica" and it's more spectacular than ever. Zirka Circus has successfully been entertaining families in NZ for more than ten years and ...
Where: Zirka Big Top, Christchurch
Address: Cnr Memorial Avenue & State Highway One, Christchurch
From: 7:00pm on Thursday 21st March 2019
To: 6:15pm on Sunday 31st March 2019
The Opera Club With Musical Director Sharolyn Kimmorley
Mon 25th Mar 2019
Join some of Christchurch's fine voices for a concert featuring favourite operatic arias and ensembles. The Great Hall Lunchtime Concert Series brings together renowned local, national and international artists for ...
Where: The Arts Centre Te Matatiki Toi Ora, Christchurch
Address: 2 Worcester Boulevard, Christchurch
From: 1:10pm on Monday 25th March 2019
To: 1:50pm on Monday 25th March 2019
His Girl Friday – Canterbury Film Society
Mon 25th Mar 2019
Note to members: Please come early for the Canterbury Film Society AGM, which starts at 7pm. Newsroom editor (Cary Grant) tries to win back his top reporter and ex-wife (Rosalind Russell). "A frenetic movie about ...
Where: Christchurch Art Gallery - Te Puna o Waiwhetu, Christchurch
Address: Cnr Worcester Boulevard and Montreal St, Christchurch
From: 7:30pm on Monday 25th March 2019
To: 9:10pm on Monday 25th March 2019
French Film Festival
From: Wed 13th Mar 2019
The French Film Festival has grown to become the foremost French cultural event and the second largest film festival in New Zealand. From 14 March we have a fantastic line up with a variety of 31 fantastic French ...
Where: Hoyts Northlands, Christchurch
Address: Northlands Shopping Centre, Main North Rd, Papanui, Christchurch
From: 7:00pm on Wednesday 13th March 2019
To: 11:59pm on Wednesday 27th March 2019
Dux Monday Medley
From: Mon 18th Feb 2019
Join us at Upper Dux for our Monday Medley open mic night where we showcase all forms of talent from our locals! A mix of comedy, poetry, burlesque, music, drag, circus, and everything else that makes Ōtautahi a ...
Where: Dux Central, Christchurch
Address: 6 Poplar Lane, Christchurch
From: 6:30pm on Monday 18th February 2019
To: 10:00pm on Monday 8th April 2019
Cranford Ale House Quiz Night
From: Mon 14th Jan 2019
Pub quizzes - Join the team at The Cranford Ale House for their weekly free entry Pub Quiz. Featuring: - Great Quiz Master - Free entry - Over $100-worth of prizes each night - Quiz night special meals ...
Where: Cranford Ale House, Christchurch
Address: 305 Cranford St, Christchurch
From: 7:00pm on Monday 14th January 2019
To: 9:30pm on Monday 6th May 2019
Belly Dance Fundamentals
From: Mon 11th Feb 2019
Learn core movements and technique that are the foundations of all styles of belly dance. Suitable for new students to start at any time, in this class we'll learn fundamental movements then put them together in short ...
Where: TribalDiva Studios, Christchurch
Address: 40A Taupata St, Redcliffs, Christchurch
From: 7:30pm on Monday 11th February 2019
To: 8:30pm on Monday 2nd December 2019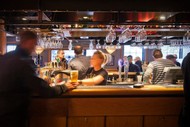 The Craic Session
From: Mon 28th Jan 2019
Join us every Monday for Craic Sessions. Everyone welcome, to participate or enjoy. Irish Music that transports you to Ireland at the very sound. Instruments range from a Flute to a Harp and each week brings ...
Where: Pegasus Arms Restaurant & Bar, Christchurch
Address: 14 Oxford Terrace, Christchurch
From: 7:00pm on Monday 28th January 2019
To: 9:30pm on Monday 6th January 2020
Reducing Our Household Rubbish: The Zero Waste Approach
Mon 25th Mar 2019
UC Sustainability Community is pleased to host The Rubbish Trip's popular presentation on zero waste living at the University of Canterbury (in Undercroft 101, Puaka-James Hight Building). Join Hannah and Liam, the ...
Where: University of Canterbury, Christchurch
Address: Ilam Road, Ilam, Christchurch
From: 12:00pm on Monday 25th March 2019
To: 2:00pm on Monday 25th March 2019
Moving Beyond #Metoo: Theory & Practice for A Changing World
From: Mon 11th Feb 2019
The MeToo movement has been instrumental worldwide in exposing just how insidious sexual harassment and assault is in our society, but the challenge now is to move beyond it and begin creating a culture of consent for ...
Where: Canterbury Workers' Educational Association, Christchurch
Address: 59 Gloucester Street, Christchurch
From: 7:00pm on Monday 11th February 2019
To: 9:00pm on Monday 1st April 2019
What Do You Want To Know?