Bulls
The town of Bulls is located around the busy intersection of State Highways 1 and 3 in the central-lower North Island of New Zealand. Wanganui is just 30 minutes to the North West, and Palmerston North is just 20 minutes to the South East. The Rangitikei River flows past Bulls on the towns southern side. more
Bulls has a relaxed shopping environment and plenty of free parking. There are lots of cafe's and dining establishments, and Intercity Buses use Bulls as one of their main stops.
Find By
What Do You Want To Do?
Where Do You Want To Go?
This New Zealand map does not display any listings on the map itself but may provide navigation by clicking on map symbol. Alternatively select a category or a region from the main links to find and view tourism businesses.
View 1 events near Bulls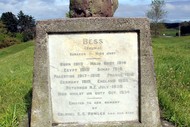 Anzac Day Service at the Bess WW1 Horse Memorial
Thu 25th Apr 2019
Anzac Day Service to honour and commemorate Bess and other horses who served in our forces. Follow the purple arrows from Bulls to the Bess WW1 Horse Memorial near the Flock House on Parewanui Road, about 14km out of ...
Where: Flock House, Bulls, Manawatu / Whanganui
Address: 1427 Parewanui Road, Parewanui
From: 9:00am on Thursday 25th April 2019
To: 11:59pm on Thursday 25th April 2019