Cromwell
Cromwell is a small New Zealand town set in the valley of the Upper Clutha River, deep in the heart of Central Otago, New Zealand. Cromwell is very known for its vineyards and stone-fruit orchards with one landmark being the sight of large fruit as you drive into town. more
The weather and climate is usually marked by dry hot summers with temperatures sometimes over 30ºC with winters getting the occasional snowfall and down as low as 0ºC.
A popular summer holiday destination, Cromwell activities include trekking, mountain biking, exploring old Cromwell Town, discovering the old mining history or visiting Central Otago vineyards.
Lake Dunstan, the Clyde Dam and the spectacular Kawarau Gorge are also attractions near to Cromwell, Central Otago
Take a moment to send an Otago related E-Postcard to your friends.
Find By
Where Do You Want To Go?
This New Zealand map does not display any listings on the map itself but may provide navigation by clicking on map symbol. Alternatively select a category or a region from the main links to find and view tourism businesses.
View 4 events near Cromwell
Cromwell Farmers & Craft Market
From: Sun 22nd Oct 2017
Opening Day - 22 October. Mark your calendars to come sample local foods, buy local produce, and shop from local artisan crafts stall holders. Live music with Hunter Hill! Cromwell Farmers' and Craft Market: The ...
Where: Old Cromwell Town Historic Precinct, Cromwell, Central Otago
Address: Melmore Terrace, Cromwell, Central Otago
From: 9:00am on Sunday 22nd October 2017
To: 1:00pm on Sunday 15th April 2018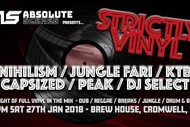 Strictly Vinyl
From: Sat 27th Jan 2018
One night of full vinyl in the mix. We are back in our home town, doing something a little different. We all know & love the sound of vinyl so decided to do a full gig dedicated to it. With DJs from Dunners & Innvers ...
Where: Cromwell Brew House Bar & Bistro, Cromwell, Central Otago
Address: 71 The Mall, Cromwell, Central Otago
From: 8:00pm on Saturday 27th January 2018
To: 2:00am on Sunday 28th January 2018
Flora and Sean
Wed 31st Jan 2018
Flora Knight and Sean Donald are from different corners of the world. She's a fiddle player from New Zealand who has previously played with The Eastern and The Lone Pine Specials. He's a guitar-picker raised in ...
Where: Lowburn Hall, Cromwell, Central Otago
Address: Lowburn Valley Rd, Cromwell, Central Otago
From: 7:30pm on Wednesday 31st January 2018
To: 11:59pm on Wednesday 31st January 2018
River Range Music Festival
From: Sat 24th Feb 2018
It's back! The River Range Music Fest is going into 2018 and celebrating a small milestone of a 5-year anniversary! What better way to celebrate it than to deliver another wonderful festival set in the heart of ...
Where: Cromwell Racecourse, Cromwell, Central Otago
Address: Ord Road, Cromwell, Central Otago
From: 2:00pm on Saturday 24th February 2018
To: 1:00am on Sunday 25th February 2018