Hokitika
The cool little town of Hokitika on the West Coast is the birthplace of Pounamu. Made in the heart of the earth, shaped by countless rivers, carved by master craftsman, Pounamu - also known as New Zealand jade or greenstone - is at the heart of Jade Country. The area teems with galleries due to the large artisan community and also boasts some unique attractions. more
Hokitika is a beachside town nestled along the West Coast with two nearby lakes. Once the hub of the early West Coast gold rush, Hokitika attractions include the National Kiwi Centre, West Coast Treetop Walkway, the Hokitika Gorge and the Glassblowing Factory.
Take a moment to send a West Coast related E-Postcard to your friends.
Hokitika Directory Information
Please choose from the main accommodation, attractions, tours, transport or visitor information categories below for Hokitika, West Coast, New Zealand.
Find By
Where Do You Want To Go?
This New Zealand map does not display any listings on the map itself but may provide navigation by clicking on map symbol. Alternatively select a category or a region from the main links to find and view tourism businesses.
Where Do You Want To Go?
View 3 events near West Coast - Hokitika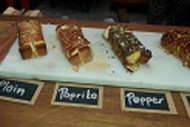 Indoor/Outdoor Market
From: Sat 25th Mar 2017
Revell Street Market is a fun filled Indoor/Outdoor Market. Stalls include - Local Pounamu carving, Woodcarving, Knitting, Sewing, Clothing, Massage, Art, Spiritual Readings, Handmade soaps, Smoked cheese, Meat small ...
Where: Revell Street Market, Hokitika, Westland
Address: 51 Revell St, Hokitika, Westland
From: 9:00am on Saturday 25th March 2017
To: 2:00pm on Saturday 6th May 2017
The Topp Twins Heading for The Hills
Wed 5th Apr 2017
New Zealand's well-loved national treasures, The Topp Twins, are hitting the road on April's Fools Day bringing their original style of merriment, mayhem and mirth to the regions. The country's hills will be alive ...
Where: Regent Theatre, Hokitika, Westland
Address: 23 Weld St, Hokitika, Westland
From: 7:30pm on Wednesday 5th April 2017
To: 10:00pm on Wednesday 5th April 2017
My Name Is Moana
Fri 14th Apr 2017
Celebrated singer-songwriter Moana Maniapoto is joined by her sister Trina, Pitch Black's Paddy Free and Karlos Tunks Saunders in a heartfelt tribute to 'moana'- the ocean - in 'My Name is Moana'. An Arts ...
Where: Old Lodge Theatre, Hokitika, Westland
Address: 11 Revell Street, Hokitika, Westland
From: 7:30pm on Friday 14th April 2017
To: 11:59pm on Friday 14th April 2017