Queenstown
Queenstown the 'Adventure Capital of New Zealand', is one of the most wild and iconic of the top tourist destinations in the country. Located in the south-western, unspoilt, alpine region of of the South Island, Queenstown is built around a pristine inlet on the sparkling Lake Wakatipu and is nestled in amongst towering rugged mountains including The Remarkables, Cecil Peak, Walter Peak, Ben Lomond and Queenstown Hill. The region around Queenstown is characterised by jagged mountain ranges, deep canyons, wild cascading rivers, crystal-clear lakes, rain forest, tussock grassland and fresh mountain air – in short this region one of nature's finest marvels. Queenstown is 483km from Christchurch – a 5 and a half hour drive away or 50 minute flight. more
Queenstown hosts a truly impressive list of adventure activities to enjoy – being a leading pioneer in all things outdoor + adventure it was here jet-boating and bungy jumping were first commercialised. Queenstown prides itself in multitudes of activities in every category for every traveller – no matter whether you are seeking the heart-pumping adventure, or the eye-popping scenic tour, or the thrilling slope to ski or a lively nightlife – all are found here.
Seeking the adrenaline-pumping, hair-raising, heart-thumping adventure of a lifetime? Queenstown boasts an incredible slew of options including: white-water rafting, jet-boating, bungy jumping, paragliding, mountain biking, rock climbing, canyoning, as well as New Zealand's largest swing strung across a mountain canyon and – true to Queenstown's spirit of fun and adventure – you choose how you would like to plummet down at 120km/hr (forwards, backwards, upside down or many other positions).
Want a little more quiet and relaxation in your Queenstown experience? No problem! Create your selection from the raft of quieter activities on offer including – scenic helicopter tours, cross country biking, trout and salmon fishing, vintage steamboat cruising, wine-tasting in some of the world's southernmost wineries, guided hiking or Segway touring. Alternatively, take a day out golfing on one of Queenstown's splendid golf courses at the very foot of great imposing mountain ranges – or else wonder off on your own on an adventurous hike in New Zealand's alpine wilderness or just explore this region by car where every sight around every bend is a ready-made postcard.
Go into the town and you will find a lively night-life, romantic cafes and restaurants, scenic water front, fantastic shopping as well as spa treatments and gourmet dining. Take the gondola up the mountain slope and enjoy breath-taking views of Queenstown as you relax wining and dining over the town. Walk along the waterfront and check out Queenstown's underwater observatory and watch the fish and eels swimming alongside diving ducks.
Come in the winter and find the town transformed into a world class ski resort. Breathe deeply the fresh mountain air as you ski the slopes of Queenstown's dramatic mountain slopes. Alternatively, enjoy other winter sports on offer like – ice skating, ice climbing and snow-shoeing. Queenstown celebrates the snow season with gusto in a busy, lively winter festival, The Queenstown Winter Festival.
Centrally located, Queenstown is also a great base to explore the wider region. Take a day trip and chill at Arrowtown – a quaint gold-rush era resort town where the autumn colours are truly something to behold, or drive to Wanaka – another of the South Island's great alpine resorts known for its superb ski fields and outdoor activities. Alternatively book an excursion to the world famous Milford or Doubtful Sounds in the World Heritage listed Fiordland National Park – one of New Zealand's most spectacular landscapes and certainly one if it's finest jewels.
Accommodation is plentiful in Queenstown with five-star hotels, motels, luxury and budget apartments, homely bed and breakfasts, luxury lodges, quaint retreat, holiday homes, cabins and camping grounds. During festival and high seasons, budget accommodation can fill up quickly.
Take a moment to send a Queenstown related E-Postcard to your friends.
Find By
Featured
Cruise into untouched wilderness on our Spirit of Queenstown Scenic Cruise to discover Lake Wakatipu's hidden gem - Mt Nicholas. Sit back, relax and enjoy the spectacular scenery of The Remarkables mountain range and up the lake towards Glenorchy township. Take panoramic photos from our open top viewing deck accompanied by a lively and informative commentary from your skipper.
Where Do You Want To Go?
This New Zealand map does not display any listings on the map itself but may provide navigation by clicking on map symbol. Alternatively select a category or a region from the main links to find and view tourism businesses.
View 54 events near Queenstown
Ceroc Dancing
From: Mon 12th Jun 2017
Ceroc is... a great way to learn in a social, fun and friendly atmosphere! From a complete beginner with two left feet to those with previous dance experience, Ceroc Southern Lakes welcomes you all! Cost - $135 ...
Where: St Peters Church, Queenstown
Address: 2 Church St, Queenstown
From: 7:00pm on Monday 12th June 2017
To: 9:30pm on Monday 18th December 2017
Big Night Out Pub Crawl
From: Tue 20th Jun 2017
Join the Big Night Out Pub Crawl as we take over Queenstown, New Zealand in an epic party you will never forget! The Big Night Out Pub Crawl hits the hottest bars, clubs, pubs & nightclubs in Queenstown every Tuesday, ...
Where: Vinyl Underground, Queenstown
Address: 12B Church Street , Queenstown
From: 9:00pm on Tuesday 20th June 2017
To: 12:00am on Saturday 30th December 2017
Multisport Skills Retreat Queenstown: SOLD OUT
From: Tue 21st Nov 2017
If you want to perform your best in the upcoming Katmandu Coast to Coast, then this may be your secret weapon! Join 9 x Coast To Coast winner Steve Gurney for three intensive days of skills, tips and tricks to get the ...
Where: Sherwood, Queenstown
Address: 554 Frankton Road, Queenstown
From: 9:00am on Tuesday 21st November 2017
To: 4:00pm on Thursday 23rd November 2017
Spring Catalogue (2017)
From: Sat 30th Sep 2017
Just announced Wallace Award 2017 Paramount Winner Andy Leleisi'uao paintings may at first seem somewhat enigmatic, as if narratives without an ending or beginning… but quickly an amalgam of ambiguous forms and ...
Where: Milford Galleries Queenstown, Queenstown
Address: 9a Earl Street, Queenstown
From: 10:00am on Saturday 30th September 2017
To: 6:00pm on Wednesday 22nd November 2017
Michael Hight: Recent Paintings (2017)
From: Fri 27th Oct 2017
Michael Hight's art is an excellent example of how paintings can seem to be simple, beautiful landscapes, whilst simultaneously being deeply symbolic and metaphorical pieces which work on a variety of levels. Taken ...
Where: Milford Galleries Queenstown, Queenstown
Address: 9a Earl Street, Queenstown
From: 5:00pm on Friday 27th October 2017
To: 6:00pm on Wednesday 22nd November 2017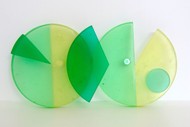 Nejat Kavvas and Ilya Volykhine Art Exhibition
From: Fri 17th Nov 2017
An exhibition of the works of two prominent contemporary artists, painter Ilya Volykhine and glass artist and sculptor Nejat Kavvas. About Nejat Kavvas: 'Alchemy' best describes that wondrous process where ...
Where: Artbay Gallery, Queenstown
Address: 13 Marine Parade, Queenstown
From: 10:00am on Friday 17th November 2017
To: 5:00pm on Thursday 30th November 2017
Eliza Southwood - Coffee Peloton & Cycling Screenprints
From: Fri 10th Nov 2017
Eliza practiced as an architect for ten years before deciding to take up a career as an artist and illustrator full-time in 2010, she has consistently drawn and painted throughout her life. Eliza grew up in Spain, ...
Where: Cycle Higher, Queenstown
Address: 9b Earl St, Queenstown
From: 5:00pm on Friday 10th November 2017
To: 6:00pm on Tuesday 12th December 2017
After the People Have Gone by Libby McColl
From: Tue 14th Nov 2017
The New Zealand countryside is the inspiration behind Libby's warm, emotive paintings. Born and raised in Auckland, Libby has always held a deep respect and love for rural NZ. Idyllic holidays at her grandparents' ...
Where: Artbay Gallery, Queenstown
Address: 13 Marine Parade, Queenstown
From: 10:00am on Tuesday 14th November 2017
To: 5:00pm on Wednesday 13th December 2017
Ferio Saxophone Quartet
Wed 22nd Nov 2017
A compelling, musically varied programme by this sensational UK Quartet. Classic formality to blended barber-shop smoothness with works from Bach to Reinhart. As one of the leading British saxophone quartets among the ...
Where: Queenstown Memorial Centre, Queenstown
Address: 1 Memorial Drive, Queenstown
From: 7:00pm on Wednesday 22nd November 2017
To: 11:59pm on Wednesday 22nd November 2017
Sacred Sexuality Fundamentals
Wed 22nd Nov 2017
Sacred Sexuality Fundamentals. Informational and experiential evenings with essential techniques and embodied practices for deep connection during sex, spiritual sexual experiences, release the chattering mind, and to ...
Where: Yoga Nadi, Queenstown
Address: Level 2, 50 Stanley St, Queenstown
From: 7:45pm on Wednesday 22nd November 2017
To: 9:15pm on Wednesday 22nd November 2017
What Do You Want To Know?