Matamata
Matamata Directory Information
Please choose from the main accommodation, attractions, tours, transport or visitor information categories below for Matamata, Waikato, New Zealand.
Find By
What Do You Want To Do?
Where Do You Want To Go?
This New Zealand map does not display any listings on the map itself but may provide navigation by clicking on map symbol. Alternatively select a category or a region from the main links to find and view tourism businesses.
View 3 events near Waikato - Matamata
The Original Gypsy Fair (Est'd 1990)
From: Sat 16th Dec 2017
For over quarter of a century The Original Gypsy Fair has been travelling NZ and we will be back in The Heart of the Waikato, at the Matamata Primary School, for our thirteenth fair of the 2017-2018 season. As always ...
Where: Matamata Primary School, Matamata, Matamata-Piako
Address: 115a Broadway, Matamata, Matamata-Piako
From: 9:00am on Saturday 16th December 2017
To: 5:00pm on Sunday 17th December 2017
Matamata Christmas At the Races
Wed 20th Dec 2017
The iconic twilight meeting at Matamata sets the scene for a grand end of year festive celebration with work colleagues, friends or family. Take an easy bet, with a hospitality package, that rewards you with fine ...
Where: Matamata Racecourse, Matamata, Matamata-Piako
Address: Hinuera Road, Matamata, Matamata-Piako
From: 12:00pm on Wednesday 20th December 2017
To: 11:59pm on Wednesday 20th December 2017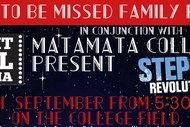 Night Owl Movie and Entertainment
Fri 23rd Feb 2018
Postponed to 23 February 2018 Night Owl Cinema in conjunction with Matamata College Present 'Step-Up' in surround sound! An evening for the whole family. Bring your pillows, bean bags & blankets & settle in for an ...
Where: Matamata College , Matamata, Matamata-Piako
Address: 125 Firth Street, Matamata, Matamata-Piako
From: 5:30pm on Friday 23rd February 2018
To: 10:00pm on Friday 23rd February 2018