Waipukurau
Waipukurau is a small rural town located in the Hawke's Bay region. Set on the banks of the beautiful trout-laden Tukituki River, Waipukurau takes its name from a nearby Maori Pa. more
Waipukurau Directory Information
Please choose from the main accommodation, attractions, tours, transport or visitor information categories below for Waipukurau, Hawke's Bay, New Zealand.
Find By
What Do You Want To Do?
Mobile-friendly - A quintessential Central Hawke's Bay sheep and beef farm. The luxury campsite is set on a sheltered and picturesque corner of the property with beautiful views over the countryside. The site can accommodate up to 9 people, in one large wooden-framed tent and two smaller 'sleeper' tents. A fantastic fully-enclosed kitchen, dining and camp lounge provides a communal gathering area.

Mobile-friendly - Welcome to Fergusson's Motor Lodge. We're the newest motel in Waipukurau and we offer 12 luxury ground floor units and six spacious studio units, all with tea, coffee and toast making facilities, fridge and microwave. Restaurants and fast food outlets within 50 metres, 500 metres to heated swimming pool complex and sports venues.

Making the journey to Southern Star Abbey Kopua is definitely a step off the well-trodden paths taken by other tourists and travellers in New Zealand. However, this journey should really only be considered by those travellers (from New Zealand and from overseas) on the path of seeking God and wishing to get closer to God.
Where Do You Want To Go?
This New Zealand map does not display any listings on the map itself but may provide navigation by clicking on map symbol. Alternatively select a category or a region from the main links to find and view tourism businesses.
View 3 events near Hawkes Bay - Waipukurau
Wallingford Cooking Demonstrations
From: Sat 28th Oct 2017
Wallingford Cooking Demonstrations - hosted by Charlotte Robinson. "Easy entertaining for the busy person" or a "Kiwi summer Christmas with a traditional twist". Join the team at Wallingford for a weekend of cooking ...
Where: Wallingford Homestead, Waipukurau, Central Hawke's Bay
Address: 2914 Porangahau Road, Waipukurau, Central Hawke's Bay
From: 10:00am on Saturday 28th October 2017
To: 3:00pm on Sunday 3rd December 2017
2018 Cable vs Wake
From: Sat 27th Jan 2018
The popular Cable vs Wake wakeboarding/wake skating competition will run on 27-28 January 2018 (Auckland Anniversary Weekend), at the Backpaddock Lakes complex, near Waipukurau. Riders compete behind the boat on Day ...
Where: Backpaddock Lakes, Waipukurau, Central Hawke's Bay
Address: 314 Speedy Road, R.D.3, Takapau, Waipukurau, Central Hawke's Bay
From: 8:00am on Saturday 27th January 2018
To: 5:00pm on Sunday 28th January 2018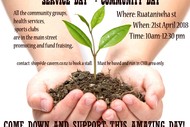 CHB Service Community Day
Sat 21st Apr 2018
This event runs each year, it is for charity, clubs, sports groups, promotion on health, gardening groups, etc. All groups must be running in CHB, and run within a building or centre within CHB. Stall fee is $5.00. ...
Where: Main Street, Waipukurau, Waipukurau, Hawke's Bay / Gisborne
Address: Ruataniwha St
From: 10:00am on Saturday 21st April 2018
To: 12:30pm on Saturday 21st April 2018