Clevedon
Clevedon is small town a large rural region south of Auckland – but still within city limits. Clevedon offers a peaceful agricultural atmosphere and also boasts a coastline along the stunning Hauraki Gulf and a selection of amazing bush walks through native forests. more
Clevedon town is a small rural town nestled on the Wairoa River. Clevedon attractions include Duder's Beach, Kawakawa Bay, Duder Regional Park and village markets.
Take a moment to send an Auckland related E-Postcard to your friends.
Find By
What Do You Want To Do?
Mobile-friendly - Auckland's Ultimate Experience Venue. Set on a stunning 500-acre Clevedon property with expansive coastal views over the Hauraki Gulf. This purpose-built venue is unrivalled in its versatility with a strong focus on outstanding NZ cuisine, wine and service. Specialising in premium events from corporate, to private entertainment and weddings, hosted in a warm and relaxed atmosphere. Max capacity 250.

Join Wild Adventures New Zealand's hiking tour escaping from the city to one of Auckland's secret gems, Duder Regional Park. This coastal park provides unparalleled 360-degree views. In just a few hours you'll experience almost everything New Zealand has to offer from the bustling city to a nature lover's playground filled with pristine beaches, native bush and classic Kiwi farmland.
Where Do You Want To Go?
This New Zealand map does not display any listings on the map itself but may provide navigation by clicking on map symbol. Alternatively select a category or a region from the main links to find and view tourism businesses.
View 3 events near Auckland - Clevedon
"How Can I Keep from Singing"- Choral Ensembles
Sun 13th Nov 2022
Choral Ensembles featuring national award-winning vocalists and groups including the Walker Twins with Rupert Archer, Luce from the Valley Studio, The Four Castles (The Macleans College Quartet), CAMA Choristers, a ...
Where: Clevedon Presbyterian Church, Clevedon, Auckland
Address: 2 Clevedon Papakura Rd, Clevedon, Auckland
From: 1:30pm on Sunday 13th November 2022
To: 2:45pm on Sunday 13th November 2022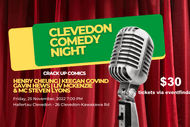 Hallertau Comedy Night
Fri 25th Nov 2022
Auckland's top comics come together for one night of stand up comedy! Come see these comedians sling their best material for an hour and half at Hellertau Riverhead! Tickets $30 online Your acts include - ...
Where: Hallertau Clevedon, Clevedon, Auckland
Address: 26 Clevedon-Kawakawa Road, Clevedon, Auckland
From: 7:30pm on Friday 25th November 2022
To: 9:00pm on Friday 25th November 2022
Clevedon Half Marathon
Sun 5th Feb 2023
Come join us for a running festival in Clevedon, Auckland including a 21km half marathon, 10km and 5km options on some of Auckland's most picturesque country roads where you will run alongside the Wairoa River before ...
Where: Clevedon Farmers Market, Clevedon, Auckland
Address: 107 Monument Road, Clevedon, Auckland
From: 7:00am on Sunday 5th February 2023
To: 11:00am on Sunday 5th February 2023