Flat Bush
Flat Bush is large modern planned town under development in the southern end of Auckland City. Forming the south-eastern edge of the urban sprawl, it will include over 1700 hectares and be home to about 40,000 people. Flat Bus is a beautiful new section of the city boasting both the advantages of modern city planning and the natural beauty of being surrounded by approximately 45 kilometres of natural streams and gullies. more
At the centre of Flat Bush is the large and peaceful 94 hectare Barry Curtis Park providing a tranquil retreat from the suburbs.
Find By
What Do You Want To Do?
Mobile-friendly - Jump into the fun at Bounce & Beyond - Auckland's largest indoor inflatable playground dedicated to everyday fun!!! Our 1800sqm facility features the coolest inflatables that will have you and your family jumping for joy! We have massive inflatable slides, obstacle course, bounce houses, interactive games and more. The whole family will have a blast playing at BOUNCE & BEYOND!

Modern accommodation just 8km from Auckland Airport and 13.5km from central Auckland. Accommodation options include Double Room with Private Bathroom, Luxury Triple Room, Twin Room with Private Bathroom, Deluxe Family Suite. All accommodation includes TV with satellite channels, refrigerator, microwave, tea/coffee-making facilities, iron, iron stand and a hairdryer. Very quiet rooms, away from the street. Guest parking. Guest laundry.
Where Do You Want To Go?
This New Zealand map does not display any listings on the map itself but may provide navigation by clicking on map symbol. Alternatively select a category or a region from the main links to find and view tourism businesses.
View 4 events near Auckland - Flat Bush
I Want to Learn Coding & Robotics - Open Day
From: Sat 12th Jan 2019
This year - "Learn to Code"! Make a start by attending our Free Open Day and get exposed to the fascinating world of Coding and Robotics. Anyone from the age of 5-18 can attend. Every Saturday at 1:30pm, Scratchpad ...
Where: Scratchpad Centre, Flat Bush, Auckland
Address: 23/2 Bishop Dunn Place, Flat Bush, Auckland
From: 1:30pm on Saturday 12th January 2019
To: 3:00pm on Saturday 28th September 2019
Dance & Fitness Classes
From: Sat 2nd Feb 2019
The dancing wonders: Do you love to dance? Do you want to be fit & fab.? Do you want to have fun? Do you want it all free!!! If yes, these classes are for you! We organise free Dance/Fitness classes for our ...
Where: Ormiston Activity Centre, Flat Bush, Auckland
Address: 169 Ormiston Road
From: 9:00am on Saturday 2nd February 2019
To: 10:00am on Saturday 7th December 2019
Disney's The Lion King Jr.
From: Wed 7th Aug 2019
Presented by Ormiston Junior College. "Disney's The Lion King Jr. has captivated the imagination of audiences around the world and now, for the first time ever, you have the opportunity to see this stage phenomenon ...
Where: Ormiston Junior College, Flat Bush, Auckland
Address: 285 Ormiston Rd, Flat Bush, Auckland 2016, Flat Bush, Auckland
From: 7:30pm on Wednesday 7th August 2019
To: 9:30pm on Saturday 10th August 2019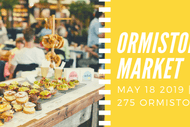 Ormiston Youth Market
From: Sat 18th May 2019
The Ormiston Youth Market is a fun and exciting event to spend your coming Saturday! From food stalls to performances, we've covered everything to ensure that we bring the greatest amount of enjoyment to our community. ...
Where: Ormiston Senior College, Flat Bush, Auckland
Address: 275 Ormiston Road, Flat Bush, Auckland
From: 9:00am on Saturday 18th May 2019
To: 2:00pm on Sunday 18th August 2019