Waipawa
Waipawa is an historic town set on the banks of the Waipawa River, in the Hawke's Bay region. Steeped in history, Waipawa is located about seven kilometres from Waipukurau. more
Waipawa Directory Information
Please choose from the main accommodation, attractions, tours, transport or visitor information categories below for Waipawa, Hawke's Bay, New Zealand.
Find By
Mobile-friendly - A quintessential Central Hawke's Bay sheep and beef farm. The luxury campsite is set on a sheltered and picturesque corner of the property with beautiful views over the countryside. The site can accommodate up to 9 people, in one large wooden-framed tent and two smaller 'sleeper' tents. A fantastic fully-enclosed kitchen, dining and camp lounge provides a communal gathering area.

Mobile-friendly - Relaxed camping, as it used to be, on the banks of the Waipawa River. Just 20 minutes drive to Hastings. This nice quiet park has a well groomed country setting, yet is very handy to shops and services. Close proximity to a trout-fishing river, swimming baths and tennis courts. Why not stopover for walking, hunting and fishing?
Where Do You Want To Go?
This New Zealand map does not display any listings on the map itself but may provide navigation by clicking on map symbol. Alternatively select a category or a region from the main links to find and view tourism businesses.
View 2 events near Hawkes Bay - Waipawa
NZ in War - Our Story 1939 - 1941
From: Sun 29th Sep 2019
This year we are celebrating 80 years since World War two was declared. In this exhibition we are remembering this event and especially RNZAF pilots originated from Central Hawkes Bay involved in WW2 operations. The ...
Where: Central Hawke's Bay Settlers Museum, Waipawa, Central Hawke's Bay
Address: 23 High St, Waipawa, Central Hawke's Bay
From: 2:00pm on Sunday 29th September 2019
To: 4:00pm on Friday 21st February 2020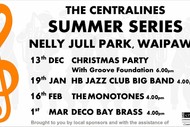 The Centralines Summer Series 2020
From: Fri 13th Dec 2019
Bring your picnic or grab your takeaways for an entertaining afternoon/evening in the park. Like us on Facebook to receive regular updates "Summer Series Nelly Jull Park". Liquor ban applies. Mark these dates on your ...
Where: Nelly Jull Park, Waipawa, Central Hawke's Bay
Address: Islington Drive, Waipawa, Central Hawke's Bay
From: 6:00pm on Friday 13th December 2019
To: 6:30pm on Sunday 1st March 2020