Waiuku
Waiuku is a country town 40 kilometres from downtown Auckland located within the southern most region of city limits. Waiuku is a popular holiday destination and is nestled on the tidal Waiuku River that flows into the large Manukau Harbour. Waiuku's attractions include the Tamakae Reserve, the Glenbrook Vintage Railway and the Manukau Harbour as well as the Kentish Hotel - New Zealand's longest continuously licensed pub. more
Accommodation in Waiuku caters for a range of preferences and budgets with options ranging from resorts to holiday camping grounds.
Take a moment to send an Auckland related E-Postcard to your friends.
Find By
Where Do You Want To Go?
This New Zealand map does not display any listings on the map itself but may provide navigation by clicking on map symbol. Alternatively select a category or a region from the main links to find and view tourism businesses.
View 4 events near Auckland - Waiuku
Timber
From: Fri 28th Oct 2022
Timber Written By Emily Laing & Liam Hagenson Directed By Liam Hagenson Presented by Waiuku Theatre Group New Zealand, 1965. Beau and his crew of hearty kiwi lumberjacks have been tasked with clearing their last ...
Where: Waiuku War Memorial Town Hall, Waiuku, Auckland
Address: Cnr Queen St and Victoria Ave, Waiuku
From: 8:00pm on Friday 28th October 2022
To: 10:00pm on Friday 18th November 2022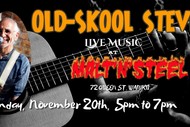 Old-Skool Steve
Sun 20th Nov 2022
Hey everyone, if you like a little easy listening old-school music, come on out to this venue and enjoy a meal, a couple of drinks and listen to the mellow sounds of Old-Skool Steve. This is a nice intimate bar in the ...
Where: Malt N Steel, Waiuku, Auckland
Address: 72 Queen Street, Waiuku, Auckland
From: 5:00pm on Sunday 20th November 2022
To: 7:00pm on Sunday 20th November 2022
Pollok Hall Market
From: Sun 5th Jun 2022
Our country market is held once a month in the Pollok Hall, on the Beautiful Awhitu Peninsula. Come along and meet the community and see what bargains you can pick up. There is a variety of produce, foods, art, ...
Where: Pollok Hall, Waiuku, Auckland
Address: 4 Cemetery Road, Pollok, Waiuku, Auckland
From: 9:00am on Sunday 5th June 2022
To: 1:00pm on Sunday 4th December 2022
Waiuku NZ Steel Christmas Festival 2022
Sat 17th Dec 2022
The Waiuku NZ Steel Christmas Festival is promising to be a fantastic event for 2022! From 5pm enjoy the festive market in Bowen St, Santa photos, family entertainment, live music and lots of fun for all. The Santa ...
Where: Waiuku Town Centre, Waiuku, Auckland
Address: 40 Queen St, Waiuku, Waiuku, Auckland
From: 5:00pm on Saturday 17th December 2022
To: 9:00pm on Saturday 17th December 2022