Waiuku
Waiuku is a country town 40 kilometres from downtown Auckland located within the southern most region of city limits. Waiuku is a popular holiday destination and is nestled on the tidal Waiuku River that flows into the large Manukau Harbour. Waiuku's attractions include the Tamakae Reserve, the Glenbrook Vintage Railway and the Manukau Harbour as well as the Kentish Hotel - New Zealand's longest continuously licensed pub. more
Accommodation in Waiuku caters for a range of preferences and budgets with options ranging from resorts to holiday camping grounds.
Take a moment to send an Auckland related E-Postcard to your friends.
Find By
Big Bay Holiday Park - Auckland

Big Bay Holiday Park - Auckland

Mobile-friendly - Big Bay Holiday Park is a family owned and operated camp which is an ideal spot for families, couples, backpackers and tourists. Located across the road from a white sandy beach, just 75 minutes from Auckland Airport. Tent and power sites, kitchen cabins and self contained units available.
Where Do You Want To Go?
This New Zealand map does not display any listings on the map itself but may provide navigation by clicking on map symbol. Alternatively select a category or a region from the main links to find and view tourism businesses.
View 2 events near Auckland - Waiuku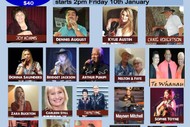 Waiuku Country Music Festival
From: Fri 10th Jan 2020
3 days of country music in a nice controled room [ rain hail or shine ]with good music,drinks and food. some of NZ's best country singers will be there over the 3 days, meals are very affordable different beers are on ...
Where: Waiuku Cosmopolitan Club, Waiuku, Auckland
Address: 4 Victoria Ave, Waiuku, Auckland
From: 2:00pm on Friday 10th January 2020
To: 1:00pm on Sunday 12th January 2020
AAF: Verses
Wed 25th Mar 2020
One of New Zealand's leading contemporary dance companies, Black Grace brings its long-running, critically-acclaimed Verses series to regional Auckland. To kick off its 25th Anniversary year, Black Grace celebrates ...
Where: Waiuku Memorial Town Hall, Waiuku, Auckland
Address: Cnr Queen St and Victoria Ave, Waiuku, Auckland
From: 7:30pm on Wednesday 25th March 2020
To: 8:30pm on Wednesday 25th March 2020