Waiuku
Waiuku is a country town 40 kilometres from downtown Auckland located within the southern most region of city limits. Waiuku is a popular holiday destination and is nestled on the tidal Waiuku River that flows into the large Manukau Harbour. Waiuku's attractions include the Tamakae Reserve, the Glenbrook Vintage Railway and the Manukau Harbour as well as the Kentish Hotel - New Zealand's longest continuously licensed pub. more
Accommodation in Waiuku caters for a range of preferences and budgets with options ranging from resorts to holiday camping grounds.
Take a moment to send an Auckland related E-Postcard to your friends.
Find By
Big Bay Holiday Park - Auckland

Big Bay Holiday Park - Auckland

Big Bay Holiday Park is a family owned and operated camp which is an ideal spot for families, couples, backpackers and tourists. Located across the road from a white sandy beach, just 75 minutes from Auckland Airport. Tent and power sites, kitchen cabins and self contained units available.
Where Do You Want To Go?
This New Zealand map does not display any listings on the map itself but may provide navigation by clicking on map symbol. Alternatively select a category or a region from the main links to find and view tourism businesses.
View 4 events near Auckland - Waiuku
Book Chat
From: Fri 2nd Feb 2018
Do you love talking about the books you read? Join our lively group and meet others who are interested in sharing their reading. Uncover new authors and titles, unearth books you might not normally read and rediscover ...
Where: Waiuku Library, Waiuku, Auckland
Address: Civic Centre, 10 King St, Waiuku, Auckland
From: 10:30am on Friday 2nd February 2018
To: 11:30am on Friday 7th December 2018
The Mermaids Perform the Music of ABBA
Sat 11th Aug 2018
An evening to enjoy and celebrate the magic and musical genius of Abba with well known Auckland band "The Mermaids". "The Mermaids" present 27 of Abba's most beloved songs, featuring three accomplished female ...
Where: The Kentish Hotel, Waiuku, Auckland
Address: 5 Queen St, Waiuku, Auckland
From: 8:00pm on Saturday 11th August 2018
To: 11:30pm on Saturday 11th August 2018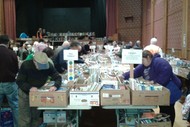 Waiuku Rotary Book Fair
From: Sat 8th Sep 2018
2-day event selling used books, DVDs, jigsaws, etc. 1000's of cheap books! Plus DVDs, LPs, sheet music & jigsaws. Something to suit all tastes! Eftpos available.
Where: Waiuku Memorial Town Hall, Waiuku, Auckland
Address: Cnr Queen St and Victoria Ave, Waiuku, Auckland
From: 8:30am on Saturday 8th September 2018
To: 4:30pm on Sunday 9th September 2018
Waiuku Blast to The Past Fireworks Display
Sat 10th Nov 2018
Waiuku is again hosting the popular "Blast to the Past" fireworks evening, featuring fresh entertainment, live music and open air market, followed by a spectacular professional fireworks display, not to be ...
Where: Rugby Park, Waiuku, Auckland
Address: King St, Waiuku, Auckland
From: 6:00pm on Saturday 10th November 2018
To: 9:00pm on Saturday 10th November 2018