Waiuku
Waiuku is a country town 40 kilometres from downtown Auckland located within the southern most region of city limits. Waiuku is a popular holiday destination and is nestled on the tidal Waiuku River that flows into the large Manukau Harbour. Waiuku's attractions include the Tamakae Reserve, the Glenbrook Vintage Railway and the Manukau Harbour as well as the Kentish Hotel - New Zealand's longest continuously licensed pub. more
Accommodation in Waiuku caters for a range of preferences and budgets with options ranging from resorts to holiday camping grounds.
Take a moment to send an Auckland related E-Postcard to your friends.
Find By
Big Bay Holiday Park - Auckland

Big Bay Holiday Park - Auckland

Big Bay Holiday Park is a family owned and operated camp which is an ideal spot for families, couples, backpackers and tourists. Located across the road from a white sandy beach, just 75 minutes from Auckland Airport. Tent and power sites, kitchen cabins and self contained units available.
Where Do You Want To Go?
This New Zealand map does not display any listings on the map itself but may provide navigation by clicking on map symbol. Alternatively select a category or a region from the main links to find and view tourism businesses.
View 3 events near Auckland - Waiuku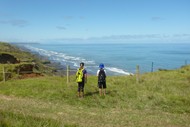 Waiuku Rotary Sunset Coast Walk
Sun 24th Feb 2019
The Awhitu Peninsula, from Waiuku to The Heads, is an area of outstanding scenic beauty. The Rotary Club of Waiuku's annual fun walk can be of approx' 5km,7km,8km or 11km's- you choose. The one fee covers all. The ...
Where: Sunset Coast Walk, Waiuku, Auckland
Address: 207 Kohekohe/Karioitahi Road
From: 7:30am on Sunday 24th February 2019
To: 1:00pm on Sunday 24th February 2019
Movies in Parks: Hunt for The Wilderpeople
Sat 2nd Mar 2019
Raised on hip-hop and foster care, defiant city kid Ricky gets a fresh start in the New Zealand countryside. He quickly finds himself at home with his new foster family - the loving Aunt Bella, the cantankerous Uncle ...
Where: Rugby Park, Waiuku, Auckland
Address: King St, Waiuku, Auckland
From: 6:00pm on Saturday 2nd March 2019
To: 9:50pm on Saturday 2nd March 2019
Seaweek - Beachcare Awhitu Coastal Walk
Sun 17th Mar 2019
Beachcare Awhitu are once again celebrating Seaweek by holding a Coastal Walk along five of our beautiful Harbour beaches on Sunday 17th March (St Patrick's Day) so we will have a Green theme with: - A short talk on ...
Where: Wattle Bay Reserve, Waiuku, Auckland
Address: Dodds Road, Awhitu Peninsula, Franklin.
From: 11:00am on Sunday 17th March 2019
To: 1:30pm on Sunday 17th March 2019