Mt Hutt
One of New Zealand's top ski destinations and world renowned, Mt Hutt Ski Area is known for its great snow as well as having one of the longest seasons in the Southern Hemisphere. The main ski resort town nearby in the Canterbury region is Methven. Mt Hutt offers a range of skiing opportunities with ski slopes for beginners through to advanced and more adventurous activities like heliskiing and snow shoeing. more
Everything for your skiing adventure is here – equipment rental, mountain transport, après ski by day and night, a wide range of Mt Hutt accommodation in addition to many off-mountain attractions including ballooning, hunting, fishing, jet boating and golf. So for family snow fun, cross country touring, park jumps or glacier heliskiing, join us in our amazing space, just an hour from Christchurch International Airport.
Take a moment to send a Canterbury related E-Postcard to your friends.
Find By
Where Do You Want To Go?
This New Zealand map does not display any listings on the map itself but may provide navigation by clicking on map symbol. Alternatively select a category or a region from the main links to find and view tourism businesses.
View 784 events near Canterbury - Mt Hutt
Dara Ó Briain - Voice of Reason
Mon 23rd Sep 2019
One of Ireland's funniest comedians, Dara O Briain will be touring New Zealand in September with his new show Voice of Reason! O Briain is a stand-up comedian, and television presenter, best known for BBC's?Mock the ...
Where: Christchurch Town Hall, Christchurch
Address: 86 Kilmore St, Christchurch
From: 8:00pm on Monday 23rd September 2019
To: 11:59pm on Monday 23rd September 2019
The Pink Hammer
From: Sat 7th Sep 2019
The inaugural Pink Hammer Workshop is an absolute disaster. Annabel, Helen, Louise and Siobhan turn up, looking forward to learning carpentry skills from a pioneering, female furniture maker… but instead they find ...
Where: Court Theatre, Christchurch
Address: Bernard St, Addington, Christchurch
From: 7:30pm on Saturday 7th September 2019
To: 11:59pm on Saturday 5th October 2019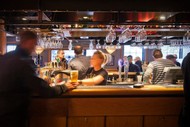 The Craic Session
From: Mon 28th Jan 2019
Join us every Monday for Craic Sessions. Everyone welcome, to participate or enjoy. Irish Music that transports you to Ireland at the very sound. Instruments range from a Flute to a Harp and each week brings ...
Where: Pegasus Arms Restaurant & Bar, Christchurch
Address: 14 Oxford Terrace, Christchurch
From: 7:00pm on Monday 28th January 2019
To: 9:30pm on Monday 6th January 2020
Photography Evening Training Package
From: Mon 23rd Sep 2019
Inspirational photography training in a brand-new course created by leading international photographer, Daniele Longo. Use the skills learned in this course to create your own employer-ready portfolio. Covering all ...
Where: Yoobee College Christchurch, Christchurch
Address: 573 Colombo Street
From: 6:00pm on Monday 23rd September 2019
To: 9:00pm on Monday 11th November 2019
Prenatal Yoga With Injoy Yoga
From: Mon 19th Aug 2019
A gentle yoga class focusing on the areas of common discomfort in pregnancy and to prepare for the birthing process. 2nd and 3rd trimesters only. Participants often create lifelong friendships with the women they ...
Where: Rangiora Hospital, Rangiora, Waimakariri
Address: 161 Ashley Street, Rangiora, Waimakariri
From: 7:00pm on Monday 19th August 2019
To: 8:00pm on Monday 30th September 2019
Monday Evening Jewellery Class
From: Mon 2nd Sep 2019
These are our most popular classes and run on a Monday evening for 8 weeks. We also have a Thursday morning 8 week block and a Sunday morning 4 week block. Suitable for complete beginners right up to advanced ...
Where: Workspace Studios, Christchurch
Address: 49 Ferry Rd, Christchurch
From: 5:30pm on Monday 2nd September 2019
To: 8:00pm on Monday 21st October 2019
Fantastic Feasts Poetry Competition for Young Writers
From: Mon 26th Aug 2019
Poetry was an extremely important part of the cultural life of the ancient Greeks and Romans. They used poetry to remember their history, share their myths, and debate what they believed in. The Teece Museum invites ...
Where: Teece Museum of Classical Antiquities, Christchurch
Address: 3 Hereford St, Christchurch
From: 8:00am on Monday 26th August 2019
To: 5:00pm on Friday 27th September 2019
Beginner Belly Dance - Term 3
From: Mon 16th Sep 2019
Wrap up warm for winter and dream of spring. When it arrives how will you celebrate? Why not join a belly dance class? My beginner term starts Monday, 16 September at 7pm. (The beyond beginner class starts earlier in ...
Where: South Brighton Studio, Christchurch
Address: 8 Drake Street, Christchurch
From: 7:00pm on Monday 16th September 2019
To: 8:15pm on Monday 4th November 2019
Waste Free Parenting Workshop - With Kate Meads
Tue 24th Sep 2019
Attend Kate Mead's longest-running and most popular workshop to become inspired and entertained about ways you can minimise waste in your home whilst babies are around! What else? You will receive a free pack full ...
Where: Harvard Community Lounge, Christchurch
Address: 31 Corsair Dr, Wigram, Christchurch
From: 6:00pm on Tuesday 24th September 2019
To: 8:30pm on Tuesday 24th September 2019
Prison Escape
From: Tue 24th Sep 2019
Set in an actual former prison, Prison Escape is Christchurch's newest and biggest Escape Room experience. You and your team have 1-hour to work together to solve the puzzles, evade the guards and escape the prison. ...
Where: Prison Escape, Christchurch
Address: 85 Armagh St, Christchurch
From: 1:15pm on Tuesday 24th September 2019
To: 10:00pm on Sunday 13th October 2019