Eketahuna
Eketahuna is a small town located south of Palmerston North, in the Manawatu region. Nestled at the foot of the Tararua Ranges, Eketahuna attractions include the Pukaha Mount Bruce National Wildlife Centre, Tararua Forest Park and the Makakahi River. more
Eketahuna Directory Information
Please choose from the main accommodation, attractions, tours, transport or visitor information categories below for Eketahuna, Manawatu, New Zealand.
Find By
What Do You Want To Do?
Mobile-friendly - New Zealand's National Wildlife Centre for conservation breeding of our threatened wildlife, conservation education and forest restoration. Demonstrating that everyone can make a difference in restoring kiwi, kokako, kaka and other native wildlife once present in our forest and returning the dawn chorus for everyone to enjoy.
Where Do You Want To Go?
This New Zealand map does not display any listings on the map itself but may provide navigation by clicking on map symbol. Alternatively select a category or a region from the main links to find and view tourism businesses.
View 2 events near Manawatu - Eketahuna
Recreational Services-Pro-Am Golf Tournament
From: Sat 26th Jan 2019
This the 16th year of the Recreational Services -Pro-Am Golf Tournament. The tournament comprises two days of team golf played on two unique golf courses - Eketahuna & Landsdowne Masterton. The competition is 3-ball ...
Where: Eketahuna Golf Club, Eketahuna, Tararua
Address: Macara Street, Eketahuna, Eketahuna, Tararua
From: 11:00am on Saturday 26th January 2019
To: 8:00pm on Sunday 27th January 2019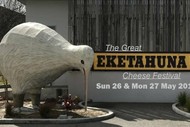 The Great Eketahuna Cheese Festival
From: Sun 26th May 2019
Team Eke are doing it again... Small cheese event for small cheesemakers in a small part of provincial New Zealand that has made a big contribution to NZ cheese. Join us! Small cheesemakers and cheesemongers will ...
Where: Eketahuna Community Centre, Eketahuna, Tararua
Address: Haswell Street, Eketahuna, Tararua
From: 10:00am on Sunday 26th May 2019
To: 4:00pm on Monday 27th May 2019