Redcliffs
Redcliffs is an affluent seaside suburb of Christchurch lying at the foothills of the mountainous Banks Peninsula. Redcliffs was significantly damaged during the 2011 Christchurch earthquakes and is also characterised by rocky hills and cliffs with many natural caves. more
For families visiting Redcliffs, Barnett Park makes for a lovely day out with a picnic or you can visit nearby Sumner Beach for swimming and surfing. Alternatively rent a kayak and have a fun afternoon paddling around the coast.
Find By
What Do You Want To Do?
Mobile-friendly - We offer guided tours in double sea kayaks down the beautiful Avon river. Come and glimpse the City from a different perspective. With many highlights such as the Red Zone, migrating and native wading birds and great views of the Port Hills, this is a fantastic trip for everyone. All equipment provided, no experience necessary and shuttle afterwards is provided.

Come along with Pacific Paddle Company and enjoy a private lesson at a sheltered bay in Christchurch. We use the highest quality boards and paddles designed by us in New Zealand. Our website offers great deals in an array of stand up paddle gear. Everyone who books through tourism.net receives 20% off a new board.

Relax and enjoy spectacular views over the South Pacific and across to the Southern Alps. We offer guests modern quality accommodation in a private suite with its own entrance. We are just 15 minutes drive from the city centre and 3 minutes from the beach. There is an excellent choice of cafes and restaurants nearby.
Where Do You Want To Go?
This New Zealand map does not display any listings on the map itself but may provide navigation by clicking on map symbol. Alternatively select a category or a region from the main links to find and view tourism businesses.
View 572 events near Redcliffs
The Bog St Patrick's Day
From: Sun 17th Mar 2019
Where: The Bog, Christchurch
Address: 50 Victoria St, Christchurch
From: 9:00am on Sunday 17th March 2019
To: 11:59pm on Monday 18th March 2019
Grave of The Fireflies – Open Night
Mon 18th Mar 2019
This is an open night at which non-members are welcome with admission by donation/koha at the door. Members are invited to bring along friends, family members, colleagues etc. Presented by the Consular Office of ...
Where: Christchurch Art Gallery - Te Puna o Waiwhetu, Christchurch
Address: Cnr Worcester Boulevard and Montreal St, Christchurch
From: 7:30pm on Monday 18th March 2019
To: 9:10pm on Monday 18th March 2019
Sajeela Kershi (UK) - Fights Like a Girl!
Mon 18th Mar 2019
What will you fight for? Watch multi-Cultural comedy from this multi award-winning comedian, writer and activist, as she brings her critically acclaimed show to NZ. Sajeela is putting up her Dukes & picking her ...
Where: Kensington Fun House, Christchurch
Address: 185 Manchester St, Christchurch
From: 8:00pm on Monday 18th March 2019
To: 10:00pm on Monday 18th March 2019
Health Talk
Mon 18th Mar 2019
The Fat Fallacy - Why it's safe to eat butter again? Remember the war on saturated fat and butter back in the 1980s-90s? Being told that cholesterol is killing us and why we should eat low fat alternatives? Even eggs ...
Where: Fo Guang Yuan Art Gallery, Christchurch
Address: 2 Harakeke St, Riccarton, Christchurch
From: 6:00pm on Monday 18th March 2019
To: 8:00pm on Monday 18th March 2019
Blackcaps v Bangladesh - 3rd Test: CANCELLED
From: Sat 16th Mar 2019
IMPORTANT UPDATE A joint decision has been taken by NZC and the BCB to cancel the third Test match due to start tomorrow at Hagley Oval. Both groups of players and support staff are safe and secure. NZC would like ...
Where: Hagley Oval, Christchurch
Address: South Hagley Park, Riccarton Ave, Christchurch
From: 11:00am on Saturday 16th March 2019
To: 6:00pm on Wednesday 20th March 2019
Dux Monday Medley
From: Mon 18th Feb 2019
Join us at Upper Dux for our Monday Medley open mic night where we showcase all forms of talent from our locals! A mix of comedy, poetry, burlesque, music, drag, circus, and everything else that makes Ōtautahi a ...
Where: Dux Central, Christchurch
Address: 6 Poplar Lane, Christchurch
From: 6:30pm on Monday 18th February 2019
To: 10:00pm on Monday 8th April 2019
Cranford Ale House Quiz Night
From: Mon 14th Jan 2019
Pub quizzes - Join the team at The Cranford Ale House for their weekly free entry Pub Quiz. Featuring: - Great Quiz Master - Free entry - Over $100-worth of prizes each night - Quiz night special meals ...
Where: Cranford Ale House, Christchurch
Address: 305 Cranford St, Christchurch
From: 7:00pm on Monday 14th January 2019
To: 9:30pm on Monday 6th May 2019
French Film Festival
From: Wed 13th Mar 2019
The French Film Festival has grown to become the foremost French cultural event and the second largest film festival in New Zealand. From 14 March we have a fantastic line up with a variety of 31 fantastic French ...
Where: Hoyts Northlands, Christchurch
Address: Northlands Shopping Centre, Main North Rd, Papanui, Christchurch
From: 7:00pm on Wednesday 13th March 2019
To: 11:59pm on Wednesday 27th March 2019
Belly Dance Fundamentals
From: Mon 11th Feb 2019
Learn core movements and technique that are the foundations of all styles of belly dance. Suitable for new students to start at any time, in this class we'll learn fundamental movements then put them together in short ...
Where: TribalDiva Studios, Christchurch
Address: 40A Taupata St, Redcliffs, Christchurch
From: 7:30pm on Monday 11th February 2019
To: 8:30pm on Monday 2nd December 2019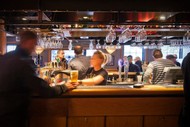 The Craic Session
From: Mon 28th Jan 2019
Join us every Monday for Craic Sessions. Everyone welcome, to participate or enjoy. Irish Music that transports you to Ireland at the very sound. Instruments range from a Flute to a Harp and each week brings ...
Where: Pegasus Arms Restaurant & Bar, Christchurch
Address: 14 Oxford Terrace, Christchurch
From: 7:00pm on Monday 28th January 2019
To: 9:30pm on Monday 6th January 2020