Russell
Russell, the first capital of New Zealand is also a world-renowned game fishing port. Zane Grey famously described Bay of Islands as 'an angler's El Dorado' when he caught his first marlin here in 1926. Tuna, broad bill, kingfish and shark are other potential game fish catches.

With waterfront restaurants and cafes that are the perfect place to catch the evening sun. Visit Zealand's oldest licensed pub and Christ Church, New Zealand's oldest church, which is still scarred with musket ball holes from the 1845 fighting. more
Pompallier Mission, the historic printery/tannery/storehouse of the early Roman Catholic missionaries, boasts to be the oldest surviving industrial building in New Zealand. The surrounding area also contains many expensive holiday homes, as well as New Zealand's most expensive rental accommodation.
A car ferry across the Bay of Islands runs between Okiato and Opua, and is the main tourist access to Russell.
Find By
Where Do You Want To Go?
This New Zealand map does not display any listings on the map itself but may provide navigation by clicking on map symbol. Alternatively select a category or a region from the main links to find and view tourism businesses.
View 3 events near Russell
Seaweek - EMR Tapeka Point Snorkel Day
Sat 19th Jan 2019
Looking for something fun you can do with the entire family? Our free community guided snorkel days are a great family activity. All the equipment and an experienced guide is provided, you might spot pipefish, ...
Where: Tapeka Point, Russell, Bay of Islands
Address: Tapeka Point, Bay of Islands, Russell, Bay of Islands
From: 10:00am on Saturday 19th January 2019
To: 3:00pm on Saturday 19th January 2019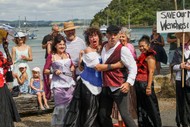 Hell Hole of The Pacific
From: Sat 26th Jan 2019
Street theatre at its best. Join the mayhem and merriment as whalers, sailors, strumpets, townsfolk and Temperance Women relive the bawdy days of Kororareka of the 1800s, the Hell Hole of the Pacific. Three FREE ...
Where: Russell Hall and Waterfront, Russell, Bay of Islands
Address: Russell, Bay of Islands
From: 10:00am on Saturday 26th January 2019
To: 3:00pm on Sunday 27th January 2019
Jon Toogood, Solo Acoustic
Fri 1st Feb 2019
Rock 'n' roll raconteur Jon Toogood unplugs the Marshall stacks and dusts off his acoustic guitar for nine shows across Aotearoa this January and February. 2018 has been a loud one for Toogood, between recording, ...
Where: The Duke Tavern, Russell, Bay of Islands
Address: 19 York Street, Russell, Bay of Islands
From: 7:00pm on Friday 1st February 2019
To: 11:00pm on Friday 1st February 2019