Turangi
World famous for trout fishing, Turangi is set at the southern end of Lake Taupo on the banks of the Tongariro River, and is the second largest town in the Taupo district. more
Turangi Directory Information
Please choose from the main accommodation, attractions, tours, transport or visitor information categories below for Turangi, Taupo, New Zealand.
Find By
Where Do You Want To Go?
This New Zealand map does not display any listings on the map itself but may provide navigation by clicking on map symbol. Alternatively select a category or a region from the main links to find and view tourism businesses.
View 2 events near Taupo - Turangi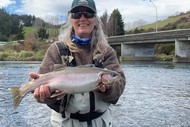 Central Plateau Womens' Fly Fishing Social Tounament
From: Fri 27th May 2022
Women are very much in the minority of fly fishers in NZ. We are trying to encourage participation by providing a friendly and fun tournament allowing women who are keen on fly fishing to get together, find some fishing ...
Where: Tongariro River, Turangi, Lake Taupo
Address: 189 Taupahi Road, Turangi, Lake Taupo
From: 8:00am on Friday 27th May 2022
To: 9:00pm on Saturday 28th May 2022
Home Composting Workshop
From: Sat 26th Feb 2022
Want to learn how to compost? Come along to this free workshop we're holding in partnership with Taupō Community Gardens. Learn how home composting is an effective way of dealing with waste – while saving you money ...
Where: Awhi Farm Centre for Sustainable Practice, Turangi, Lake Taupo
Address: 29 Atirau Rd, Turangi, Lake Taupo
From: 1:30pm on Saturday 26th February 2022
To: 3:00pm on Saturday 28th May 2022