Geraldine
The pretty country town of Geraldine lies on the scenic inland route (SH72) and is located 130 km south of Christchurch International Airport. The town makes an excellent first or last night stopover for international arrivals seeking to explore the South Island as it is the gateway to the Starlight Highway leading to the UNESCO International Dark Skies Reserve at Tekapo and onwards to Mount Cook and the Southern Lakes. Geraldine accommodation offers a selection of choices such as motels, holiday parks and country lodges. more
Geraldine's beautiful gardens and gracious exotic trees are a delightful setting for the many festivals held across the seasons which celebrate the town's, diversity, lovely gardens and thriving arts scene. The town boasts two excellent museums - the first historical and then the Vintage Car and Machinery Museum, which has a fascinating collection of vintage vehicles dating back to 1905.
To see some majestic specimens of ancient podocarp forest, visit the Talbot Forest Scenic Reserve, just a 5 minute walk from the town centre or stroll along the colourful rhododendron walk alongside the Waihi River, an oasis in the centre of town. Peel Forest Park, 19km north of Geraldine, is great for nature and adventure lovers, with walking tracks, whitewater rafting, waterfalls, horse trekking, native birdlife and native trees. The rivers and streams around Geraldine have graced it with many beauty spots and there are superb views of the mountains from the rolling hill country of the Geraldine Downs.
Outdoor enthusiasts are spoilt for choice with walking and cycling trails and geo caching locations around the district. The town hosts a variety of multi-sport events for all abilities each autumn, including the fast growing cross country map reading sport known as rogaining. The surrounding area comprises all types of farming, with sheep and cattle on the high country and dairy and fruit farming on the lower levels down to the coast. In winter, Geraldine is an ideal base for skiers heading to the Mount Dobson, Tekapo and Fox Peak ski areas.
Take a moment to send a Canterbury related E-Postcard to your friends.
Find By
Where Do You Want To Go?
This New Zealand map does not display any listings on the map itself but may provide navigation by clicking on map symbol. Alternatively select a category or a region from the main links to find and view tourism businesses.
View 3 events near Canterbury - Geraldine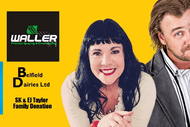 Michele A'Court & Jeremy Elwood-On the Road. Geraldine Kindy
Tue 5th Feb 2019
Geraldine Home & Kindergarten bring to you: Michele A'Court & Jeremy Elwood - On the Road tour. Michele A'Court and Jeremy Elwood are two of New Zealand's premier stand-up comics. Well known on radio and for regular ...
Where: Geraldine Primary School, Geraldine, South Canterbury
Address: 73 Wilson Street, Geraldine, South Canterbury
From: 7:30pm on Tuesday 5th February 2019
To: 10:00pm on Tuesday 5th February 2019
Geraldine Multi Challenge
Sun 17th Mar 2019
Now a 'must-do' annual fixture for recreational and competitive athletes alike, the Geraldine Multi Challenge, organised by the Geraldine Lions and Bike Geraldine, takes in purpose-built single track, Orari River trails, ...
Where: Orari Racecourse, Geraldine, South Canterbury
Address: Racecourse Rd, Orari, Geraldine, South Canterbury
From: 9:00am on Sunday 17th March 2019
To: 11:59pm on Sunday 17th March 2019
Aro - 'Manu' Album Release Tour
Sat 4th May 2019
Aro are setting off on their debut album release tour around the country from February to May 2019, following their official album release on Feb 15th. Aro's sound is distinctly Aotearoa/NZ pop, with a range of other ...
Where: Geraldine Academy of Performance and Arts, Geraldine, South Canterbury
Address: 79 Talbot Street, Geraldine, South Canterbury
From: 7:00pm on Saturday 4th May 2019
To: 9:30pm on Saturday 4th May 2019