Mangawhai and Mangawhai Heads
Mangawhai Village and Mangawhai Heads are located in the stunning Northland region and are linked by a picturesque causeway, surrounded by native wetlands and bush. more
Bordering the tranquil, lagoon-style Mangawhai Harbour, Mangawhai Beach is a popular place for surfing, swimming, sailing, fishing, playing in the sand dunes or just relaxing on the golden expanses of sand. After playing at the beach, wander into Mangawhai Village and explore the collection of colonial buildings, shops, galleries and cafes.
A popular holiday destination, Mangawhai offers a wide range of holiday houses and other accommodation options.
Mangawhai Directory Information
Please choose from the main accommodation, attractions, tours, transport or visitor information categories below for Mangawhai and Mangawhai Heads, Northland, New Zealand.
Find By
Mobile-friendly - Choose from hundreds of tracks and trails across New Zealand to walk, cycle, horse ride or more! Maps, photos, descriptions and all the information you need to find your next adventure, wherever you are. The NZ Walking Access Commission is the government's expert agency on public access to the outdoors.

Located just 100km north of Auckland Harbour Bridge, making it the perfect choice for your first or last night stop north of Auckland. Variety of affordable holiday accommodation options including two self-contained cabins and a studio unit. Onsite caravans with awnings, non-powered and powered sites. Riverside is a peaceful holiday park set in manicured grounds. Kids' playground plus two trampolines.

NZ family-run homestay boutique luxury lodge surrounded by 20acres of native bush. Expansive views of the Brynderwyn Range, golden-sand beach of Te Arai and islands off the coast. Beautiful accommodation, organic permaculture gardens, garden-to-table dining, yoga-studio, spa and pool, and a strong sense of wellness and environmental sustainability are all part of Te Arai Lodge's unique offering.
Where Do You Want To Go?
This New Zealand map does not display any listings on the map itself but may provide navigation by clicking on map symbol. Alternatively select a category or a region from the main links to find and view tourism businesses.
View 196 events near Northland - Mangawhai and Mangawhai Heads
DinoFest
From: Wed 16th Jan 2019
Meat-eating Tyrannosaurus Rex and the giant plant-eating Titanosaur will be among the pre-historic giants stomping through Mair Park, Whangarei this summer. DinoFest is an exciting, educational outdoor family event for ...
Where: Mair Park, Whangarei
Address: Rurumoki St, Whangarei
From: 10:30am on Wednesday 16th January 2019
To: 2:00pm on Sunday 20th January 2019
Summer Holiday Program
From: Thu 20th Dec 2018
Where: Tutukaka Coast, Tutukaka, Whangarei District
Address: Marina Road, Tutukaka, Whangarei District
From: 11:30am on Thursday 20th December 2018
To: 3:00pm on Friday 18th January 2019
Lawn Bowls
From: Thu 4th Oct 2018
Coopers Beach Bowling and Social Club holds Club Day bowls every Thursday from 10.00am with registration by 9.30am. Visitors and new bowlers welcome with bowls available if required. We also have a Pool evening on ...
Where: Coopers Beach Bowling & Social Club, Doubtless Bay, Far North
Address: 234 State Highway 10, Doubtless Bay, Far North
From: 9:30am on Thursday 4th October 2018
To: 3:00pm on Thursday 24th January 2019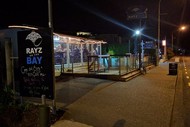 The Duo Coco
From: Thu 15th Nov 2018
The Duo Coco are a husband and wife acoustic duo that play acoustic blues, rock, reggae, pop, at Rayz every Thursday night 5-8pm.
Where: Rayz On the Bay, Paihia, Bay of Islands
Address: 50 Marsden Rd, Paihia, Bay of Islands
From: 12:00am on Thursday 15th November 2018
To: 11:59pm on Thursday 31st January 2019
Reireis School of Reggae
From: Thu 3rd Jan 2019
Come and take a class at Reireis school of Reggae. No musical experience necessary, Reirei will show you how its done. Sit back and listen to the master or pick up a musical instrument and join in. Every Thursday ...
Where: Thirty30, Paihia, Bay of Islands
Address: 16, Kings Road, Paihia, Bay of Islands
From: 8:00pm on Thursday 3rd January 2019
To: 11:00pm on Thursday 7th March 2019
Summer Holidays
From: Wed 19th Dec 2018
Kiwi - Tuatara Encounters - Special Exhibitions - Taonga Maori - Early Settler Homestead and Chapel - Train & Tractor Rides - Medieval Madness Event Day. Kiwi North is one of the many treasures you will discover in ...
Where: Kiwi North Museum, Kiwi House & Heritage Park, Whangarei
Address: 500 State Highway 14, Maunu, Whangarei
From: 10:00am on Wednesday 19th December 2018
To: 4:00pm on Monday 28th January 2019
Te Reo Cafe
From: Thu 17th Jan 2019
All welcome to come and kōrero Te Reo Māori for 2 hours in a friendly whanaungatanga environment, third Thursday of the month. (Also check out more Te Reo Rūmaki Wānanga at Northtec. Email paulajwilson75@gmail.com ...
Where: The Old Stone Butter Factory, Whangarei
Address: 8 Butter Factory Lane, Whangarei
From: 6:00pm on Thursday 17th January 2019
To: 8:00pm on Thursday 19th December 2019
Trains Running All School Holidays
From: Fri 21st Dec 2018
Our line is now celebrating 150 years - oldest in North Island. It's the only place to ride a train through a town main street in NZ; passing Hundertwasser's world famous toilets; going to the longest curved wooden ...
Where: Bay of Islands Vintage Railway, Kawakawa, Bay of Islands
Address: Gillies St, Kawakawa, Bay of Islands
From: 10:45am on Friday 21st December 2018
To: 2:30pm on Sunday 10th February 2019
Overnight Cruising In the Bay of Islands
From: Mon 1st Oct 2018
Get on the The Rock NZ boat for the most action-packed Bay of Islands cruise in New Zealand. The Rock Adventure Cruise is suitable for all ages, but is it for you? Yes, if you enjoy great company, are seeking new ...
Where: The Rock Adventure Cruise, Paihia, Bay of Islands
Address: 69 Marsden Rd, Paihia, Bay of Islands
From: 5:00pm on Monday 1st October 2018
To: 11:59pm on Saturday 30th March 2019
NorthTec Open Day
Thu 17th Jan 2019
If studying and gaining skills are on your to-do list for 2019, take a look at what NorthTec has to offer. Come in and enjoy some interactive activities, and talk to us about career planning and how to enrol. We ...
Where: NorthTec Interactive Learning Centre, Whangarei
Address: 51 Raumanga Valley Rd, Raumanga, Whangarei
From: 11:00am on Thursday 17th January 2019
To: 2:00pm on Thursday 17th January 2019