Dargaville
Dargaville is a town in the North Island of New Zealand. It is situated on the bank of the Northern Wairoa River in Northland. The town is located 55 kilometres southwest of Whangarei.

Each year it hosts such events as the Northland Agricultural Field Days, and several major surfcasting and trout-fishing competitions.

Explore the history of the North and Kaipara Harbour in Dargaville Museum. Here you will find relics from many of the area's shipwrecks. more
Tokatoka Peak (the core of a volcano 180 metres high) is situated just south of Dargaville and is a 20-minute climb. For the more adventurous there is Maungaraho Rock. Allow 30 minutes for the climb to the summit which is 221 metres high.
Dargaville Directory Information
Please choose from the main accommodation, attractions, tours, transport or visitor information categories below for Dargaville, Northland, New Zealand.
Find By
Where Do You Want To Go?
This New Zealand map does not display any listings on the map itself but may provide navigation by clicking on map symbol. Alternatively select a category or a region from the main links to find and view tourism businesses.
View 2 events near Northland - Dargaville
Fireco Kai Iwi Lakes
Sat 23rd Feb 2019
The Fireco Kai Iwi Lakes Triathlon is organised by Sport Northland is back again at the stunning Kai Iwi Lakes on 23 February 2019! From the rolling hills to the crystal clear freshwater lakes the sheer beauty of the ...
Where: Taharoa Domain Kai Iwi Lakes Camping Ground, Dargaville, Kaipara
Address: 296 Domain Rd, Dargaville, Kaipara
From: 8:15am on Saturday 23rd February 2019
To: 1:00pm on Saturday 23rd February 2019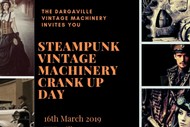 Vintage Machinery Steampunk Crank Up Day
Sat 16th Mar 2019
The Vintage Machinery Club invites you. The Vintage Machinery Club Dargaville are having their annual Crank Up day with a twist. Vintage Machinery meets the Steampunk Society. Bring the whole family to the ...
Where: Harding Park, Dargaville, Kaipara
Address: Mt Wesley Coast Rd, Dargaville, Kaipara
From: 11:00am on Saturday 16th March 2019
To: 4:00pm on Saturday 16th March 2019