Amberley and Leithfield
Amberley is located north of Christchurch in Canterbury's northern wine growing region. Leithfield is only a short distance from Amberley towards the coast and is one of the oldest townships in the North Canterbury region. more
Come and relax with the fine wine tasting tours and gourmet meals of Amberley's wineries
Take a moment to send a Canterbury related E-Postcard to your friends.
Find By
What Do You Want To Do?
Mobile-friendly - Family orientated seaside camp located in North Canterbury, 30 mins from Christchurch Airport. Accommodation consists of power and tent sites, some with sea views, two cabins, bus and two onsite caravans. Facilities are spotless, with a shared kitchen with alfresco dining patio, free BBQ or pizza oven. Wheelchair access. Tennis court, children's pool, fishing, swimming and riverwalks in the area.

Mobile-friendly - Only one hours drive from Christchurch, one hour to Hanmer or half hour to Kaikoura - Lovat Downs is your ideal base if you want to try out the region's wide range of attractions – from the hot pools and skiing in Hamner, to the wine trails and vintage railway in Waipara, to the crayfishing.

Mobile-friendly - Welcome to Terrace Edge, a boutique family estate in the Waipara Valley, North Canterbury. We're committed to producing hand-crafted wine from organically grown grapes, table olives & extra virgin olive oil of premium quality. Visit the cellar-door for tastings while experiencing expansive views across the Waipara River. Take a short stroll to the spectacular Syrah block on "the edge".
Where Do You Want To Go?
This New Zealand map does not display any listings on the map itself but may provide navigation by clicking on map symbol. Alternatively select a category or a region from the main links to find and view tourism businesses.
View 1 events near Canterbury - Amberley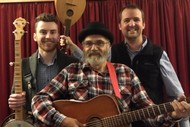 Port Hillbillies Play Balcairn Hall - Bluegrass Music
Sat 9th Mar 2019
In late 1945 Bluegrass music was making its roots when the father of Bluegrass, Bill Munroe morphed the genre from the Old Timey music of Appalachia. Jump forward to the present and Bluegrass still has a major ...
Where: Balcairn Hall, Amberley, Hurunui
Address: 4 Ashby's Road, Balcairn, Amberley, Hurunui
From: 8:00pm on Saturday 9th March 2019
To: 11:59pm on Saturday 9th March 2019