Amberley and Leithfield
Amberley is located north of Christchurch in Canterbury's northern wine growing region. Leithfield is only a short distance from Amberley towards the coast and is one of the oldest townships in the North Canterbury region. more
Come and relax with the fine wine tasting tours and gourmet meals of Amberley's wineries
Take a moment to send a Canterbury related E-Postcard to your friends.
Find By
What Do You Want To Do?
Where Do You Want To Go?
This New Zealand map does not display any listings on the map itself but may provide navigation by clicking on map symbol. Alternatively select a category or a region from the main links to find and view tourism businesses.
View 2 events near Canterbury - Amberley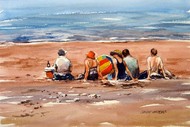 Arts' Showcase
From: Fri 13th Sep 2019
Join us for the Hurunui's yearly art exhibition. Our guest artist for this, our 21st exhibition, is water colourist Devon Huston. A wide variety of media will be on display, most for sale; this year's theme: ...
Where: Hurunui Memorial Library, Amberley, Hurunui
Address: 111 Carters Road, Amberley, Hurunui
From: 9:00am on Friday 13th September 2019
To: 3:00pm on Monday 16th September 2019
The Kugels
Sat 14th Sep 2019
29 Aug - 29 Sep 2019 AOTNZ Tour. Klezmer music with The Kugels - wild, spirited and haunting. Three top musicians and a celebrated composer have joined together in their love of klezmer, the feisty 19th century folk ...
Where: Balcairn Hall, Amberley, Hurunui
Address: 4 Ashby's Road, Balcairn, Amberley, Hurunui
From: 8:00pm on Saturday 14th September 2019
To: 11:59pm on Saturday 14th September 2019