Matakohe
Matakohe is approximately a 2hr drive north of Auckland's Harbour Bridge and is a charming rural village with a population of a mere 400 people. Travel along the Twin Coast Discovery Highway, then turn left towards Maungaturoto to get to the village that is steeped in history, and a community who will make sure your visit is a truly memorable one. more
A highly recommended stop is the famous Kauri Museum at Matakohe. There it is very easy to spend a couple of hours viewing the wonderful displays which portray the history of the Kauri Coast and shopping for great value high-quality souvenirs.
The Matakohe River is a short river which runs from the north into the Arapaoa River, which is part of the Kaipara Harbour. Ruawai is 16 kilometres to the west, and Paparoa is 6 kilometres northeast. The Hukatere Peninsula extends south into the Kaipara Harbour.
Find By
What Do You Want To Do?
Where Do You Want To Go?
This New Zealand map does not display any listings on the map itself but may provide navigation by clicking on map symbol. Alternatively select a category or a region from the main links to find and view tourism businesses.
View 1 events near Northland - Matakohe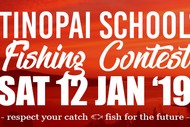 Tinopai Fishing Contest '19
Sat 12th Jan 2019
Tinopai School proudly presents the 19th annual Tinopai Fishing Contest. One of the biggest events - for one of the smallest schools - on the Kaipara Harbour! A great day out for the whole family! Prizes galore ...
Where: Tinopai School, Matakohe, Kaipara
Address: 1913 Tinopai Rd, Matakohe, Kaipara
From: 7:00am on Saturday 12th January 2019
To: 5:00pm on Saturday 12th January 2019