Kaiapoi
Kaiapoi is a pleasant town of about 10,000 inhabitants situated north of Christchurch on the Northern Motorway. Kaiapoi is set on the Kaiapoi River and is close to the Pines Beach and Woodend beach where you can go and swim in the sea. Kaiapoi offers a range of accommodation and activities including farmstays and even jetboating on the stunning Waimakariri River. more
Take a moment to send a Canterbury related E-Postcard to your friends.
Find By
What Do You Want To Do?
Mobile-friendly - 20 minutes north of Christchurch. Luxurious self-contained farmstay units with modern facilities sleeping four persons per unit, with full kitchen facilities. Delightful farm setting, excellent fishing, and adorable alpaca. Your experienced hosts will gladly assist you with any travel plans. Courtesy transport to and from city or airport. Farm breakfast available. Proven record in the field of alpacas.

Mobile-friendly - An ideal holiday getaway from the busy city life for overseas and New Zealand visitors alike. 55 acres of well maintained, park like grounds, close to a safe swimming beach and forest walks. Only 25 minutes from the airport. A range of affordable accommodation including motel, comfortable, well equipped standard cabins, power and tent sites.
Where Do You Want To Go?
This New Zealand map does not display any listings on the map itself but may provide navigation by clicking on map symbol. Alternatively select a category or a region from the main links to find and view tourism businesses.
View 5 events near Kaiapoi
Tai Chi and Qi Gong Classes
From: Fri 26th Jul 2019
Tai chi has many benefits and creates good habits for life. From having less accidents, placing less wear and tear on the body through to breathing and relaxing these beautiful movements can inspire your life. This ...
Where: St Bartholomew's Church, Kaiapoi, Waimakariri
Address: 23 Cass Street, Kaiapoi, Waimakariri
From: 10:30am on Friday 26th July 2019
To: 11:30am on Friday 11th October 2019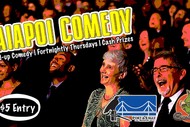 Kaiapoi Comedy
From: Thu 13th Jun 2019
For far too long Kaiapoi has sat watching, whilst just up the road CBD citizens have been treated to comedy show after comedy show. Finally it's time to bring regularly comedy to the North! Come join us for a mix of ...
Where: The Port and Eagle Brew Pub, Kaiapoi, Waimakariri
Address: 184 Williams St, Kaiapoi, Waimakariri
From: 7:00pm on Thursday 13th June 2019
To: 10:00pm on Thursday 12th December 2019
Meditation and Buddhism Kaiapoi Weekly Classes
From: Thu 5th Sep 2019
This event is a weekly drop in class. Each class consists of a guided meditation and a talk based on Buddhist wisdom. Classes are suitable for everyone. Join in any week, booking is not required. Everyone is ...
Where: Kaiapoi Community Centre, Kaiapoi, Canterbury
Address: 24 Sewell Street
From: 7:15pm on Thursday 5th September 2019
To: 8:45pm on Thursday 31st October 2019
The Waimakariri Light Party 2019
Thu 31st Oct 2019
The fun at the Waimakariri Light Party, will kick-off with a multitude of entertainment including bungees, bouncy castles, (with the return of the Titanic bouncy castle) soft archery, horses and carriage rides, climbing ...
Where: Wylie Park, Kaiapoi, Waimakariri
Address: Smith Street, Kaiapoi, Waimakariri
From: 4:30pm on Thursday 31st October 2019
To: 7:30pm on Thursday 31st October 2019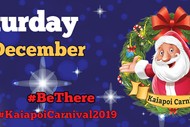 Kaiapoi Christmas Carnival and Santa Parade
Sat 7th Dec 2019
Christmas is coming, and Kaiapoi is getting ready. Three major events peppered with excitement, fun, and family entertainment, being held on Saturday 7th December 9am to 4.30pm. KPA Street Market: 9am – ...
Where: Kaiapoi Village Green, Kaiapoi, Canterbury
Address: Hilton St
From: 9:00am on Saturday 7th December 2019
To: 4:30pm on Saturday 7th December 2019