Kaiapoi
Kaiapoi is a pleasant town of about 10,000 inhabitants situated north of Christchurch on the Northern Motorway. Kaiapoi is set on the Kaiapoi River and is close to the Pines Beach and Woodend beach where you can go and swim in the sea. Kaiapoi offers a range of accommodation and activities including farmstays and even jetboating on the stunning Waimakariri River. more
Take a moment to send a Canterbury related E-Postcard to your friends.
Find By
What Do You Want To Do?
Mobile-friendly - An ideal holiday getaway from the busy city life for overseas and New Zealand visitors alike. 55 acres of well maintained, park like grounds, close to a safe swimming beach and forest walks. Only 25 minutes from the airport. A range of affordable accommodation including motel, comfortable, well equipped standard cabins, power and tent sites.
Where Do You Want To Go?
This New Zealand map does not display any listings on the map itself but may provide navigation by clicking on map symbol. Alternatively select a category or a region from the main links to find and view tourism businesses.
View 5 events near Kaiapoi
Ohoka Farmers Market
From: Fri 21st Jan 2022
One of the longest-running, largest and most popular of Farmers Markets in Canterbury held every Friday in the Ohoka Domain. 9am until 12.30. 10 minutes from Rangiora and 20 from Christchurch. All weather. Along with an ...
Where: Ohoka Domain, Kaiapoi, Waimakariri
Address: Whites Road, Ohoka, Kaiapoi, Waimakariri
From: 9:00am on Friday 21st January 2022
To: 12:30pm on Friday 14th April 2023
Kaiapoi Business Networking Meeting - 7.30am
From: Tue 15th Feb 2022
Kimberley leads this Kaiapoi 7.30am Tuesday group from a space of wanting to bring together local business people to foster relationships and build synergies within this local growing community. Our weekly meetings ...
Where: Rivertown Cafe, Kaiapoi, Waimakariri
Address: 77 Williams Street, Kaiapoi, Waimakariri
From: 7:30am on Tuesday 15th February 2022
To: 8:30am on Tuesday 20th December 2022
Open Mic Nights
From: Wed 3rd Aug 2022
Open Mic is back every Wednesday from 7pm starting August 2022. We invite all aspiring local artists to come and join us for a night of fun. A great way to experience and expose your upcoming career in music. Max 3 ...
Where: Five Peaks Brew Co, Kaiapoi, Waimakariri
Address: 184 Williams Street, Kaiapoi, Waimakariri
From: 7:00pm on Wednesday 3rd August 2022
To: 9:00pm on Wednesday 21st December 2022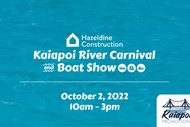 Kaiapoi River Carnival and Boat Show
Sun 2nd Oct 2022
The River Carnival & Boat Show is all about celebrating Kaiapoi's river. An event free entertainment for all. Boat and Caravan Sales, Trade Displays, Children's Entertainment. Community and Business Raft Race. ...
Where: Kaiapoi River, Kaiapoi, Canterbury
Address: Raven Quay
From: 10:00am on Sunday 2nd October 2022
To: 3:00pm on Sunday 2nd October 2022
Kaiapoi Christmas Carnival and Santa Parade
Sat 3rd Dec 2022
The Annual Kaiapoi Christmas Carnival is an authentic Country Christmas Carnival celebrating the festive season. - Craft, and artisan stalls. - Musical and Cultural Entertainment. - The famous main street market, ...
Where: Hilton Street Regeneration Grounds, Kaiapoi, Canterbury
Address: Hilton Street
From: 9:30am on Saturday 3rd December 2022
To: 3:00pm on Saturday 3rd December 2022