Kaiapoi
Kaiapoi is a pleasant town of about 10,000 inhabitants situated north of Christchurch on the Northern Motorway. Kaiapoi is set on the Kaiapoi River and is close to the Pines Beach and Woodend beach where you can go and swim in the sea. Kaiapoi offers a range of accommodation and activities including farmstays and even jetboating on the stunning Waimakariri River. more
Take a moment to send a Canterbury related E-Postcard to your friends.
Find By
What Do You Want To Do?
Mobile-friendly - 20 minutes north of Christchurch. Luxurious self-contained farmstay units with modern facilities sleeping four persons per unit, with full kitchen facilities. Delightful farm setting, excellent fishing, and adorable alpaca. Your experienced hosts will gladly assist you with any travel plans. Courtesy transport to and from city or airport. Farm breakfast available. Proven record in the field of alpacas.

Mobile-friendly - An ideal holiday getaway from the busy city life for overseas and New Zealand visitors alike. 55 acres of well maintained, park like grounds, close to a safe swimming beach and forest walks. Only 25 minutes from the airport. A range of affordable accommodation including motel, comfortable, well equipped standard cabins, power and tent sites.
Where Do You Want To Go?
This New Zealand map does not display any listings on the map itself but may provide navigation by clicking on map symbol. Alternatively select a category or a region from the main links to find and view tourism businesses.
View 3 events near Kaiapoi
Kaiapoi Farmers Market
From: Sat 3rd Dec 2016
A regular farmers market which includes fresh local vegetables and fruit, free range eggs, vegetable plants, grasses, bedding plants, and crafts. The market runs rain or shine on Saturday mornings. At casual friendly ...
Where: Morgan Williams Reserve, Kaiapoi, Waimakariri
Address: Charles St, Kaiapoi, Waimakariri
From: 10:00am on Saturday 3rd December 2016
To: 12:30pm on Saturday 4th May 2019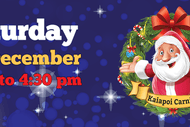 Kaiapoi Christmas Carnival and Santa Parade
Sat 1st Dec 2018
Where: Kaiapoi Town Centre, Kaiapoi, Waimakariri
Address: Williams Street, Kaiapoi, Waimakariri
From: 9:00am on Saturday 1st December 2018
To: 4:30pm on Saturday 1st December 2018
Kaiapoi Toyota Show and Shine
Sat 1st Dec 2018
Come and Display your Car, Truck, Motorbike at the Kaiapoi Toyota Show and Shine. Spot prizes presents to cars on the day. $10 to display your Car - All proceeds to the Kaiapoi/Belfast Rotary. Public access: ...
Where: Hilton Street Redzone Reserve, Kaiapoi, Canterbury
Address: 63 Hilton Street, Kaiapoi
From: 9:00am on Saturday 1st December 2018
To: 4:30pm on Saturday 1st December 2018