Paekakariki
Paekakariki is a small seaside town located in the Kapiti Coast region near the city of Wellington. Paekakariki offers a number of accommodation options including a holiday park, B&B and a hotel. more
Some of the attractions and activities in Paekakariki include fishing, walking, a visit to the museum or relaxing at one of the local cafes.
Paekakariki Directory Information
Please choose from the main visitor information categories below for Paekakariki, Kapiti Coast, Wellington, New Zealand.
Find By
Mobile-friendly - Paekakariki Holiday Park is a relaxed holiday park situated on the beautiful Kapiti Coast and only 35 minutes drive to Interislander ferry-terminals and Wellington City. Set in 11 acres of park-like grounds. Facilities include kitchen cabins, tourist flats, tent and power sites and full park amenities. Dog friendly campsites available. Located at start of Paekakariki to Pukerua Bay escarpement walk.

Mobile-friendly - Kapiti Coast Airport car hire and truck rentals. Family owned business committed to providing excellent and friendly service. We pride ourselves on providing good quality vehicles at affordable prices. Our vehicles are reliable and serviced to the highest standard by expert automotive repairers. Contact us any time, 7 days a week. Wellington Airport / Auckland - Drop Off Only.

Mobile-friendly - Be blown away by Wellington. Explore the spectacular Wellington region with a friendly local on a personalised relaxing private, or small group, day tour or shore excursion (Max 10 people). Hosted by uTours, you will enjoy informed conversation, individual attention, personal space and the opportunity to connect with the Wellington that locals love.
Where Do You Want To Go?
This New Zealand map does not display any listings on the map itself but may provide navigation by clicking on map symbol. Alternatively select a category or a region from the main links to find and view tourism businesses.
View 3 events near Paekakariki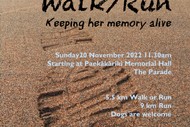 Caroline Boyd Memorial Walk/Run 2022
Sun 20th Nov 2022
The Caroline Boyd Memorial Walk/Run is a local community fun-run in honour of Caroline Boyd, an avid runner and active member of the Wellington community, who was killed by a speeding car in Paekakariki in 2017. This ...
Where: Queen Elizabeth Park, Paekākāriki, Kapiti Coast
Address: Queen Elizabeth Park, Paekākāriki, Kapiti Coast
From: 11:30am on Sunday 20th November 2022
To: 1:00pm on Sunday 20th November 2022
Wellington Sea Shanty Society EP release party!
Sat 3rd Dec 2022
Best dressed prizes! Nautical games! Singalong shanties! They say some things never leave us. They're always there, just out of reach, between sleep and dreams. Between the foreshore and seabed. The plaintive moan ...
Where: Paekakariki Memorial Hall, Paekākāriki, Kapiti Coast
Address: 98 The Parade, Paekākāriki, Kapiti Coast
From: 7:30pm on Saturday 3rd December 2022
To: 11:00pm on Saturday 3rd December 2022
The Joyful and Defiant Collective presents Pride
Sun 22nd Jan 2023
A Concert by the Joyful and Defiant collective - Pride Wellington Jazz Festival / Paekākāriki Pride Festival 2022 Pride is a concert of jazz, blues, classical music, comedy and Kiwiana, featuring the Joyful and ...
Where: St Peters Hall, Paekākāriki, Kapiti Coast
Address: Cnr Beach Rd and Ames St, Paekākāriki, Kapiti Coast
From: 4:00pm on Sunday 22nd January 2023
To: 6:00pm on Sunday 22nd January 2023