Darfield
Located on the Canterbury Plains, Darfield is the main town between Christchurch and the West Coast. Darfield is a great location to enjoy the rural farming New Zealand life just outside of Christchurch and maybe even to go hot air ballooning. Darfield enjoys stunning alpine views, gorgeous spring-time blossom and high summer temperatures. more
Take a moment to send a Canterbury related E-Postcard to your friends.
Find By
Where Do You Want To Go?
This New Zealand map does not display any listings on the map itself but may provide navigation by clicking on map symbol. Alternatively select a category or a region from the main links to find and view tourism businesses.
View 1 events near Canterbury - Darfield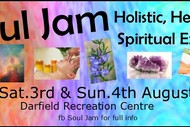 Soul Jam
From: Sat 3rd Aug 2019
Holistic, Health and Spiritual Expo . Liven up your life with a great day out where you can learn about and experience a wide variety of professional practitioners in natural health and healing, spiritual and psychic ...
Where: Darfield Recreation and Community Centre, Darfield, Selwyn
Address: North Terrace, Darfield, Selwyn
From: 10:00am on Saturday 3rd August 2019
To: 5:00pm on Sunday 4th August 2019