Wellsford
Wellsford is a town in the far north of the Auckland city limits and on the junction Highway 16 and State Highway 1. There are many attractions near to Wellsford including Kaipara Harbour, many surf beaches and the Dome Forest Walkway. more
Choose from a range of Wellsford accommodation ranging from holiday parks through to peaceful farmstays.
Take a moment to send an Auckland related E-Postcard to your friends.
Find By
What Do You Want To Do?
Where Do You Want To Go?
This New Zealand map does not display any listings on the map itself but may provide navigation by clicking on map symbol. Alternatively select a category or a region from the main links to find and view tourism businesses.
View 1 events near Auckland - Wellsford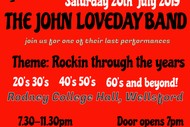 John Loveday at Wellsford Rockers
Sat 20th Jul 2019
Join us for one of The John Loveday Band's last performances ever! Our theme is Turn Back Time and it's going to be an epic night of classic Rock n Roll from one of the best in the business! Dress to impress in ...
Where: Rodney College, Wellsford, Auckland
Address: 287 - 319 Rodney St, Wellsford, Auckland
From: 7:30pm on Saturday 20th July 2019
To: 11:30pm on Saturday 20th July 2019