Helensville
Helensville is a small country town about 40 kilometres north of Auckland nestled in the rolling green hills of the Northland Peninsular but is still located within city limits. While the city train service has been discontinued to Helensville, it is serviced by regular city buses. Helensville is a beautiful place to relax in the tranquility of the countryside an easy drive from Auckland. Helensville accommodation may include a range of options such as country lodges, bed and breakfast accommodation, motels and farmstays. more
Book your accommodation or activity in Helensville and discover kiwi lifestyle in the country.
Take a moment to send an Auckland related E-Postcard to your friends.
Find By
A luxury country cottage where you can treat yourself to that country holiday. Romantic and stylishly rustic, your weekend getaway is privately positioned in a tree-lined valley, overlooking a waterfall on our 45-acre (almost self-sufficient) farmstay. Just 30 minutes from Auckland central. Fully self-contained. Relax in front of wood burning outdoor fire and pizza oven with views to the waterfall.
Where Do You Want To Go?
This New Zealand map does not display any listings on the map itself but may provide navigation by clicking on map symbol. Alternatively select a category or a region from the main links to find and view tourism businesses.
View 4 events near Auckland - Helensville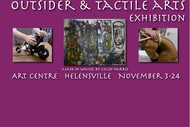 Outsider & Tactile Arts Exhibition
From: Sat 3rd Nov 2018
An open exhibition focusing on the talented artists outside of the mainstream, whether with physical disabilities, learning disabilities or mental health issues. Be prepared to enjoy this refreshing ...
Where: Art Centre Helensville, Helensville, Auckland
Address: 49 Commercial Rd, Basement War Memorial Hall , Helensville, Auckland
From: 10:00am on Saturday 3rd November 2018
To: 2:00pm on Saturday 24th November 2018
The Nukes Helensville Show
Fri 23rd Nov 2018
The Nukes from West Auckland are far more than a ukulele band. Part vaudeville, part rat-pack, part musical car crash, this talented trio deliver an engaging mix of humour and originality that audiences of all ages will ...
Where: Kaipara Memorial RSA, Helensville, Auckland
Address: 49 Commercial Rd, Helensville, Auckland
From: 7:30pm on Friday 23rd November 2018
To: 10:00pm on Friday 23rd November 2018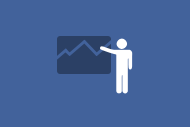 Helensville Aglow
From: Fri 6th Jul 2018
At Aglow we have an inspirational speaker sharing life stories and how they overcame obstacles. Meeting in November 2nd Mrs Denise Reid is the speaker who helps people overseas in many countries. Helps them to set up ...
Where: Helensville Community Church, Helensville, Auckland
Address: 40 Mill Road, Helensville, Auckland
From: 7:30pm on Friday 6th July 2018
To: 9:30pm on Friday 1st February 2019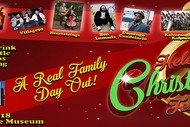 Helensville Christmas Festival
Sat 8th Dec 2018
Christmas Parade from midday followed by concert at Helensville Museum. Food stalls, bouncy castle, face painting at Museum and also in town centre in morning. Santa at RSA for photos from 9.30 am.
Where: Helensville, Helensville, Auckland
Address: Commercial Road, Mill Road
From: 9:30am on Saturday 8th December 2018
To: 4:00pm on Saturday 8th December 2018