Hornby
Located on the southeastern extreme of Christchurch's urban sprawl, Hornby is a major residential and retail suburb. Hornby has some of Christchurch's largest shopping centres and is also home to the Wigram Aerodrome, set next to Hornby. Hornby sits on State Highway 1 that connects Christchurch to Dunedin and all the lower South Island and is also serviced by the Southern Motorway providing fast and rapid transport into the Christchurch City Centre.
Find By
What Do You Want To Do?
Denton Park Motel is modern and right on the doorstep of the Hornby and Dressmart Malls. 10 spacious, quality, self-contained studio, one and two-bedroom units, which are modern, comfortable, meticulously maintained and are serviced daily. All units have a wall mounted 32" LCD TV. SKY TV runs to all units. Now with FREE unlimited fibre broadband internet WiFi access.

Mobile-friendly - Dress-Smart Hornby is the South Island's only dedicated outlet shopping mall with over 50 stores at our Christchurch location. You will not only find top fashions, but everything from footwear to sunglasses and a great range of general merchandise. Ideally situated for travellers on their way into Christchurch on Main South Road in Hornby, only 10 minutes from Christchurch Airport.

Mobile-friendly - MegaAir is New Zealand's largest and most fantastic indoor trampoline park. It brings wall-to-wall fun for all ages, fitness levels, and skills. It's a fun and safe environment where soft landings are guaranteed. If jumping off walls, flying through the air, flipping, bouncing and leaping, sounds like fun to you you'll love MegaAir. Dodgeball also on-site.
Where Do You Want To Go?
This New Zealand map does not display any listings on the map itself but may provide navigation by clicking on map symbol. Alternatively select a category or a region from the main links to find and view tourism businesses.
View 501 events near Hornby
Alpine Ice, Ice Skating
From: Sat 28th Aug 2021
Alpine Ice is adjusting its operations for Delta Level 2. This requires a strict 50 person limit for public sessions (spectators and skaters included). Book your public session entry ticket through Eventfinda to ...
Where: Alpine Ice Sports Centre, Christchurch
Address: 495 Brougham Street, Opawa , Christchurch
From: 2:00pm on Saturday 28th August 2021
To: 9:00pm on Wednesday 22nd September 2021
Raw Comedy Competition Heat 1 & 2: POSTPONED
From: Mon 6th Sep 2021
For the 8th year in a row we bring you the newest and freshest of the rookie class of stand up comedians telling their best jokes for a chance to represent the South Island at the national Raw finals in Auckland. 16 ...
Where: Darkroom, Christchurch
Address: 336 St Asaph Street, Christchurch
From: 7:30pm on Monday 6th September 2021
To: 9:00pm on Monday 20th September 2021
The Bar from Nowhere
From: Fri 17th Sep 2021
Due to the tricky nature of Covid-19, this season can no longer go ahead. We apologise for any inconvenience and trust that you understand. We will now put all our energies into the seasons we have coming up later in the ...
Where: Hagley Theatre Company, Christchurch
Address: 102 Champion Street, Edgeware, Christchurch
From: 7:30pm on Friday 17th September 2021
To: 9:15pm on Friday 24th September 2021
Christchurch Pokémon Club
From: Mon 17th May 2021
Calling all Pokemon Trainers. The Christchurch Pokémon Club meets weekly on Monday at the arcade for a casual night of Pokémon fun where you can chill, chat and meet other players. -Meet other Pokémon Players ...
Where: Arcadia Retro Arcade and Pinball Emporia, Christchurch
Address: 206 Barbadoes St, Christchurch
From: 5:30pm on Monday 17th May 2021
To: 9:00pm on Monday 1st November 2021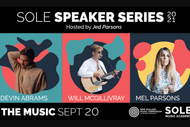 THE MUSIC - SOLE Speaker Series
Mon 20th Sep 2021
With the help of the NZ Music Commission, SOLE has put together a brand new music business speaker and mentoring series to support emerging Canterbury artists and upcoming music professionals. THE MUSIC is the second ...
Where: SOLE Music Academy, Christchurch
Address: 14 Wise St, Addington, Christchurch
From: 7:00pm on Monday 20th September 2021
To: 10:00pm on Monday 20th September 2021
Intuitive Counselling & Coaching Course
From: Sun 12th Sep 2021
Professional Training Course in Intuitive Counselling & Coaching to diploma qualification. Help others gain greater self-awareness, find answers, become empowered. Next intake: September 2021 Intuitive ...
Where: Self Realization SevaLight Centre, Christchurch
Address: 100 Highsted Road, Bishopdale, Christchurch
From: 4:00pm on Sunday 12th September 2021
To: 9:15am on Saturday 25th September 2021
Open Meditation Evenings
From: Wed 1st Sep 2021
Meditate with others any night of the year! All are welcome to join us from: 7:00 Sunday with an Inspired Talk from Mata Yoganandaji 7:00 Friday - Beginner's Welcome & Orientation to Meditation, followed by: 7:45 ...
Where: Self Realization SevaLight Centre, Christchurch
Address: 100 Highsted Road, Bishopdale, Christchurch
From: 8:00pm on Wednesday 1st September 2021
To: 9:15pm on Thursday 30th September 2021
Tai Chi Beginners Class
From: Mon 11th Jan 2021
The classes are cancelled now. When we reopen, I will announce the reopening date here. Tai Chi for Joy Beginners Class: Free 1st visit Guided by Sandy Jiang, an accredited provider of the Strength and Balance ...
Where: Halswell Community Hall, Christchurch
Address: 450 Halswell Rd, Christchurch
From: 1:00pm on Monday 11th January 2021
To: 2:00pm on Monday 13th December 2021
Brighton Gallery Art Classes with Tony Scanlan
From: Mon 29th Mar 2021
Art classes held at Brighton Gallery by Tony Scanlan (Bachelor of Fine Arts, BSc) Tony is a varied artist teaching a range of styles and materials. He believes every form of artistic expression is valid and takes an open ...
Where: Brighton Gallery, Christchurch
Address: 62 Brighton Mall, New Brighton, Christchurch
From: 10:30am on Monday 29th March 2021
To: 12:30pm on Monday 20th December 2021
Textile Treasures
From: Mon 20th Sep 2021
Six local textile artists from the Textile and Fibre Arts Network (TAFAN) present a wide range of fibrous explorations from fashion, felting, embroidery, patchwork, knitting, upcycled furniture and more! Contributing ...
Where: Eastside Gallery, Christchurch
Address: Linwood Community Arts Centre, 388 Worcester St, Christchurch
From: 5:30pm on Monday 20th September 2021
To: 5:00pm on Saturday 9th October 2021