Hornby
Located on the southeastern extreme of Christchurch's urban sprawl, Hornby is a major residential and retail suburb. Hornby has some of Christchurch's largest shopping centres and is also home to the Wigram Aerodrome, set next to Hornby. Hornby sits on State Highway 1 that connects Christchurch to Dunedin and all the lower South Island and is also serviced by the Southern Motorway providing fast and rapid transport into the Christchurch City Centre.
Find By
What Do You Want To Do?
Denton Park Motel is modern and right on the doorstep of the Hornby and Dressmart Malls. 10 spacious, quality, self-contained studio, one and two-bedroom units, which are modern, comfortable, meticulously maintained and are serviced daily. All units have a wall mounted 32" LCD TV. SKY TV runs to all units. Now with FREE unlimited fibre broadband internet WiFi access.

Mobile-friendly - Dress-Smart Hornby is the South Island's only dedicated outlet centre with over 50 outlet stores. You will not only find top fashions, but everything from footwear to sunglasses and a great range of jewellery, giftware and general merchandise. Ideally situated for travellers on their way into Christchurch on Main South Road in Hornby, only 10 minutes from Christchurch Airport.

Mobile-friendly - MegaAir is New Zealand's largest and most fantastic indoor trampoline park. It brings wall-to-wall fun for all ages, fitness levels, and skills. It's a fun and safe environment where soft landings are guaranteed. If jumping off walls, flying through the air, flipping, bouncing and leaping, sounds like fun to you you'll love MegaAir. Dodgeball also on-site.
Where Do You Want To Go?
This New Zealand map does not display any listings on the map itself but may provide navigation by clicking on map symbol. Alternatively select a category or a region from the main links to find and view tourism businesses.
View 454 events near Hornby
Jennine Bailey (Jazz Vocalist) with Tom Rainey On Piano
Mon 9th Dec 2019
Jennine and Tom have performed as a duo throughout New Zealand for more than 20 years and have collaborated on various recording projects. Join them as they share some of their favourite melodies. The Great Hall ...
Where: The Arts Centre Te Matatiki Toi Ora, Christchurch
Address: 2 Worcester Boulevard, Christchurch
From: 1:10pm on Monday 9th December 2019
To: 1:50pm on Monday 9th December 2019
Cranford Ale House Quiz Night
From: Mon 30th Sep 2019
Pub quizzes - Join the team at The Cranford Ale House for their weekly free entry Pub Quiz. Featuring: - Great Quiz Master - Free entry - Over $100-worth of prizes each night - Quiz night special meals ...
Where: Cranford Ale House, Christchurch
Address: 305 Cranford St, Christchurch
From: 7:00pm on Monday 30th September 2019
To: 9:20pm on Monday 16th December 2019
Kizomba Beginner 101 Dance Course
From: Mon 9th Dec 2019
Learn to Dance Kizomba from New Zealand Salsa Champions in Christchurch NZ. No partners required, a great way to have fun, stay healthy and meet new people. Kizomba also known as Angolan Tango or African Tango, the ...
Where: Salsa Latina Dance Centre, Christchurch
Address: 12 Bath St, Christchurch
From: 7:30pm on Monday 9th December 2019
To: 8:30pm on Monday 17th February 2020
Keepsake Singers
From: Mon 14th Oct 2019
With Steve Langley and friends. Supported by Christchurch City Council. An opportunity to sing songs from the 20's, 30's, 40's and 50's in a fun, social supportive atmosphere. This weekly group aims to meet the ...
Where: Phillipstown Community Hub, Christchurch
Address: 39 Nursery Rd, Christchurch
From: 10:00am on Monday 14th October 2019
To: 11:00am on Monday 16th December 2019
Monday Night At The Arcade
From: Mon 23rd Sep 2019
Monday night, you are looking for some thing to do? Come on down to Arcadia with your friends and chill, play some games, have a burger, beer and perhaps sing a song. Bring that person you met over the weekend or your ...
Where: Arcadia Retro Arcade and Pinball Emporia, Christchurch
Address: 206 Barbadoes St, Christchurch
From: 5:00pm on Monday 23rd September 2019
To: 10:00pm on Monday 30th December 2019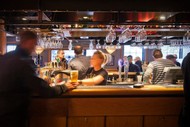 The Craic Session
From: Mon 28th Jan 2019
Join us every Monday for Craic Sessions. Everyone welcome, to participate or enjoy. Irish Music that transports you to Ireland at the very sound. Instruments range from a Flute to a Harp and each week brings ...
Where: Pegasus Arms Restaurant & Bar, Christchurch
Address: 14 Oxford Terrace, Christchurch
From: 7:00pm on Monday 28th January 2019
To: 9:30pm on Monday 6th January 2020
A Christmas Carol
From: Sat 30th Nov 2019
Back by popular demand, join The Court Jesters this Christmas as they ambitiously recreate Charles Dickens' classic Yuletide tale with just two performers, one pianist and, of course, a little help from you, in the ...
Where: Court Theatre, Christchurch
Address: Bernard St, Addington, Christchurch
From: 7:00pm on Saturday 30th November 2019
To: 11:59pm on Saturday 21st December 2019
Festive Fun: Card-making Station
From: Mon 2nd Dec 2019
Get creative and make a card at this free paper-craft station! It's perfect accessory for the awesome gift you bought from one of The Arts Centre's independent retailers. All craft materials are provided – just ...
Where: The Arts Centre Te Matatiki Toi Ora, Christchurch
Address: 2 Worcester Boulevard, Christchurch
From: 10:00am on Monday 2nd December 2019
To: 5:00pm on Tuesday 24th December 2019
Aha Wildlife Bakery - Christmas Edition
From: Fri 29th Nov 2019
This is the only place in New Zealand where you can eat a freshly baked Kiwi! Be it for breakfast, lunch or dinner, kiwis go anytime. With butter or as a sandwich, with marmite or jam - kiwis, everybody loves them! ...
Where: Riverside Market Christchurch, Christchurch
Address: 98 Oxford Terrace, Christchurch
From: 8:00am on Friday 29th November 2019
To: 6:00pm on Friday 27th December 2019
Christmas Lightshow
From: Fri 29th Nov 2019
So much more than just Lights. This is a unique Christmas experience that incorporates christmas lights that are synchronized to music. The music lineup is from various New Zealand Bands.The Lightshow is custom designed ...
Where: Christchurch Christmas Lightshow, Christchurch
Address: 650 Shands Road, Christchurch
From: 8:30pm on Friday 29th November 2019
To: 11:30pm on Monday 30th December 2019