Taihape
Taihape is a small rural town located in the Ruapehu region. Taihape is known as the Gumboot Capital of the World and is the Northern gateway town of the Rangitikei District. more
Taihape Directory Information
Please choose from the main accommodation, attractions, tours, transport or visitor information categories below for Taihape, Ruapehu, New Zealand.
Find By
Where Do You Want To Go?
This New Zealand map does not display any listings on the map itself but may provide navigation by clicking on map symbol. Alternatively select a category or a region from the main links to find and view tourism businesses.
View 2 events near Ruapehu - Taihape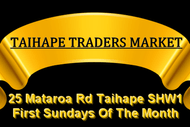 Taihape Traders Market
From: Sun 1st Sep 2019
A sheltered market in both a paved square with gazebos and tables and verandas or neighboring car park spaces for boot sales, with the best of the regions crafters traders and products. Creative stalls welcome or come ...
Where: Kenz Red Shed, Taihape, Manawatu / Whanganui
Address: 25 Mataroa Rd SHW1
From: 10:00am on Sunday 1st September 2019
To: 2:00pm on Sunday 1st December 2019
The Flaming Mudcats
Sat 7th Dec 2019
Auckland Blues Legends The Flaming Mudcats play the Taihape Musicians Club Saturday 7 December. Formed in 2008 in Auckland, the Flaming Mudcats are now regarded to be one of New Zealand's premier blues acts. They ...
Where: Taihape Musicians Club, Taihape, Rangitikei
Address: 28 Kuku St, Taihape, Rangitikei
From: 7:00pm on Saturday 7th December 2019
To: 11:55pm on Saturday 7th December 2019