Stratford
Stratford is located on the junction of State Highway 3 and State Highway 43 in the Taranaki reigon of New Zealand. The town was named after William Shakespeare's birthplace Stratford-Upon-Avon and many street names and parks are dedicated to the writer's plays and characters. The glockenspiel clock tower in the middle of the town performs excerpts of Romeo and Juliet throughout the day. more
Stratford is the gateway to the Stratford Mountain House and Plateau on Egmont National Park where many adventures await. It also includes the Forgotten World Highway touring route and Whangamomona where you can easily spend a few days exploring the saddles, tracks and even the railway line with Forgotten World Adventures.
Stratford is also home to many award-winning parks and gardens such as Hollard Gardens, a horticultural oasis in the heart of dairy country.
Stratford Directory Information
Please choose from the main accommodation, attractions, tours, transport or visitor information categories below for Stratford, Taranaki, New Zealand.
Find By
Mobile-friendly - Imagine staying in a luxuriously private self contained chalet with picturesque scenery. Be captivated by the natural beauty, lake views and sculptured landscape. Unwind listening to the birdsong and farm animals from your own private verandah. Simply relax or kayak the tranquil waters of Lake Rotorangi or hike around the nearby Lake Rotokare Scenic Reserve.

Barberry Hill offers a choice of two studio lofts in a country retreat farm setting, fully self contained or bed and breakfast, just 3kms from the centre of Stratford and close to Mt Taranaki. The lofts are spacious, comfortable, each with a balcony, wood fire, full kitchen and dining facilities and free Wifi.

Mobile-friendly - New Zealand rail tours with a difference departing from Taumarunui, Whangamomona or Stratford. The ultimate way to explore rural New Zealand, along decommissioned railway lines, through tunnels, over bridges and rivers and through townships that time forgot. A guided tour, drive you own RailCart, cleverly adapted to ride along the tracks of the 140 km Forgotten World Highway railway.
Where Do You Want To Go?
This New Zealand map does not display any listings on the map itself but may provide navigation by clicking on map symbol. Alternatively select a category or a region from the main links to find and view tourism businesses.
View 7 events near Taranaki - Stratford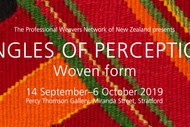 Angles of Perception – Woven Form
From: Sat 14th Sep 2019
The Meaning Angles: Geometric figures formed by two lines that begin at a common point or by two planes that begin at a common line. The space between such lines or planes, measured in degrees. Perception: The ...
Where: Percy Thomson Gallery, Stratford, Taranaki
Address: Prospero Pl, Miranda St, Stratford, Taranaki
From: 10:30am on Saturday 14th September 2019
To: 3:00pm on Sunday 6th October 2019
Locals Day Taranaki
Sat 28th Sep 2019
If you're a Stratford, Douglas, Te Wera or Toko resident and would like to experience the stories of our rail cart tour, come join us on 28 September 2019! All tours will be free of charge (it is essential you show ...
Where: Douglas Rail Station, Stratford, Taranaki
Address: Corner of Douglas Road and SH43, Douglas, Stratford, Taranaki
From: 9:00am on Saturday 28th September 2019
To: 5:30pm on Saturday 28th September 2019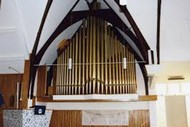 2019 Around the Mountain Organ Recital Series
From: Wed 26th Jun 2019
The Music Innovation Trust of Taranaki is pleased to present the 2019 "Around the Mountain" Organ Recital Series, with organ recitals on the 1916 Alfred Brake pipe organ at the Wesley Methodist Church in Hāwera and ...
Where: St Andrews Presbyterian Church, Stratford, Taranaki
Address: Cnr Regan & Miranda Streets, Stratford, Taranaki
From: 11:30am on Wednesday 26th June 2019
To: 12:30pm on Monday 16th December 2019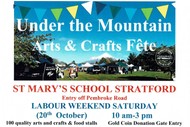 Under the Mountain Arts & Crafts Fete
Sat 26th Oct 2019
The Sixth Annual Arts & Crafts Fete on Labour Weekend. 100 quality Stalls held in the school gymnasium as well as outdoors. A wide variety of Arts & Crafts and of course great food & treats. Visit our Facebook page for ...
Where: Taranaki Diocesan School, Stratford, Taranaki
Address: 61 Broadway North, Stratford, Taranaki
From: 10:00am on Saturday 26th October 2019
To: 3:00pm on Saturday 26th October 2019
Let's Go On Safari
From: Fri 1st Nov 2019
Kids Animal Hunt. Nestled in the mystical woodlands of Te Popo are 17 bronze statues waiting to be discovered. Bring the kids on an African Safari animal hunt. The hand-made sculptures in life-size proportions will be ...
Where: Te Popo Gardens, Stratford, Taranaki
Address: 636 Stanley Road, Stratford, Taranaki
From: 9:00am on Friday 1st November 2019
To: 6:00pm on Sunday 10th November 2019
Forgotten 43 Brewing Tour & Tasting
From: Wed 6th Nov 2019
Begun in the sheds of two Taranaki locals – mates with a passion for quality all-grain craft beer and a love for all things Taranaki. Forgotten 43 Brewing is located in Stratford at the beginning of State Highway ...
Where: Forgotten 43 Brewing, Stratford, Taranaki
Address: 279 Broadway, Stratford, Taranaki
From: 3:00pm on Wednesday 6th November 2019
To: 5:00pm on Friday 8th November 2019
Tahora Songwriting Retreat
From: Fri 17th Jan 2020
The Tahora Songwriting Retreat gives you the chance to immerse yourself in songwriting in a fully accommodated and catered environment, free of distractions at the Hill Country Homestead. Presented by singer-songwriter ...
Where: Hill Country Homestead, Stratford, Taranaki
Address: 67 Tahora Road, Tahora, Stratford, Taranaki
From: 6:00pm on Friday 17th January 2020
To: 1:00pm on Monday 20th January 2020