Coatesville
Coatesville is a largely rural region just 30 kilometres north of the Auckland City Centre and just north of the urban sprawl but still within city limits. Coatesville is a stunning region of rolling green hills and affluent dwellings and is situated just next to the Riverhead Forest – an exotic forest grown for pine timber. Relax in the peace and tranquility of the countryside just out of the hustle and bustle of Auckland.
Find By
What Do You Want To Do?
Our unique 80-acre estate is located just 35mins drive from the CBD in the heart of Auckland's wine country. A Cellar Door, Cafe, roaming gardens, event spaces, newly opened Restaurant, as well as a fully functioning winery and bottling works, The Hunting Lodge has it all. Options include All-in-One-Treat Scenic Helicopter flight with Vineyard Tour, Wine Tasting and Lunch!
Where Do You Want To Go?
This New Zealand map does not display any listings on the map itself but may provide navigation by clicking on map symbol. Alternatively select a category or a region from the main links to find and view tourism businesses.
View 2 events near Coatesville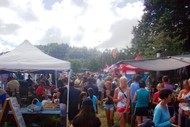 Coatesville Market
From: Sun 7th Feb 2016
Auckland's rural market destination, established in 2007. Full of delight, friendly atmosphere, tranquil setting at the beautiful Coatesville Settlers Hall and Reserve. Home-made with love. Phone: 027-4323317 ...
Where: Coatesville Settlers Hall, Coatesville, Auckland
Address: 4 Mahoenui Valley Road, Coatesville, Auckland
From: 10:00am on Sunday 7th February 2016
To: 2:00pm on Sunday 3rd February 2019
Mizuno Coatesville Half Marathon
Sun 10th Feb 2019
Running Events and title sponsor Mizuno welcome you to the 2018 edition of Auckland's most stunning rural road race the Mizuno Coatesville Half Marathon! Make a date and join us in the beautiful rural village of ...
Where: Coatesville Settlers Hall, Coatesville, Auckland
Address: 4 Mahoenui Valley Road, Coatesville, Auckland
From: 7:30am on Sunday 10th February 2019
To: 11:00am on Sunday 10th February 2019