Marlborough Sounds
The Marlborough Sounds is a marine playground and ecological haven covering one-fifth of New Zealand's coastline. Home to secluded bays, historic sites, walking and cycling trails, marine reserves, island sanctuaries and places to stay tucked away in native bush – the cruising grounds of the Marlborough Sounds is a water lover's paradise. more
Marlborough Sounds Directory Information
Please choose from the main accommodation, attractions, tours, transport or visitor information categories below for Marlborough Sounds, Marlborough, New Zealand.
Find By
Where Do You Want To Go?
This New Zealand map does not display any listings on the map itself but may provide navigation by clicking on map symbol. Alternatively select a category or a region from the main links to find and view tourism businesses.
View 2 events near Marlborough - Marlborough Sounds
Queen Charlotte Relay
Sat 21st Sep 2019
This event is a 5-person relay starting at Waitohi Domain, Picton finishing in Havelock outside the Havelock Hotel. The relay was for runners only until 2002 when due to popular demand we introduced a walkers grade. ...
Where: Waitohi Domain, Sounds, Marlborough
Address: Dublin Street, Picton, Sounds, Marlborough
From: 11:30am on Saturday 21st September 2019
To: 5:00pm on Saturday 21st September 2019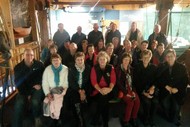 Descendants Muster
From: Fri 25th Oct 2019
Descendants of the original passengers of The Edwin Fox will congregate over the long weekend. There will be a program of events listed in the future. For more information contact Karen McLeod at the museum on 03 ...
Where: Edwin Fox Maritime Museum, Sounds, Marlborough
Address: 1 Auckland St, Picton, Sounds, Marlborough
From: 5:00pm on Friday 25th October 2019
To: 5:00pm on Monday 28th October 2019