Panmure
Panmure is a small suburb to the south-east of the Auckland CBD on the banks of the Tamaki river. Panmure offers easy access to Sylvia Park - New Zealand's largest shopping mall. Panmure is an ideal choice for those looking for accommodation in Auckland not too far from the city centre. more
Take a moment to send an Auckland related E-Postcard to your friends.
Find By
What Do You Want To Do?
Mobile-friendly - With everyday low prices on a range of fuel efficient, quality rental car, Bargain Rental Cars lets you experience NZ in the way that works for you. With 9 branches throughout NZ, we can help with all your vehicle rentals. We also service Auckland Airport, Wellington Airport and Christchurch Airport. We also provide one way vehicle rentals.
Where Do You Want To Go?
This New Zealand map does not display any listings on the map itself but may provide navigation by clicking on map symbol. Alternatively select a category or a region from the main links to find and view tourism businesses.
View 4 events near Auckland - Panmure
Panmure Vinyasa Flow Yoga
From: Mon 4th Mar 2019
Vinyasa Flow - a dynamic style of yoga building strength as well as flexibility. Suitable for beginners to advanced aimed at balancing mind and body through the ancient art of Yoga.
Where: Allenby Scouts Hall, Panmure, Auckland
Address: 54 Allenby Rd
From: 6:00pm on Monday 4th March 2019
To: 7:00pm on Monday 17th June 2019
The Landmark Poker Night
From: Wed 13th Mar 2019
No limit Texas Holdem tournament in the RSA bar. $20 entry plus $20 rebuys allowed until second break or until prize pool reaches $500. $20 goes towards the end of season game prize-pool; the rest is paid out in ...
Where: The Landmark Bar & Functions Venue, Panmure, Auckland
Address: 163 Queens Rd, Panmure, Auckland
From: 7:00pm on Wednesday 13th March 2019
To: 10:30pm on Wednesday 10th April 2019
PLSC Laser and Opti Learn to Sail Training
From: Sat 9th Feb 2019
Panmure Lagoon Sailing Club will running its Learn to Sail training courses for Juniors and Seniors from 9 February 2019. The sailing classes offered are in Lasers for Seniors and Optimists for Juniors. Boats and ...
Where: Panmure Lagoon Sailing Club, Panmure, Auckland
Address: 100a Ireland Road, Panmure, Auckland
From: 9:00am on Saturday 9th February 2019
To: 5:30pm on Saturday 30th March 2019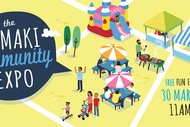 Tāmaki Community Expo
Sat 30th Mar 2019
A free fun family event with activities for all ages. Come and get to know the services and opportunities available in your community. Food, bouncy castle, youth area, family games, early years play area and spot ...
Where: Panmure Community Centre, Panmure, Auckland
Address: 7-13 Pilkington Rd, Panmure, Auckland
From: 11:00am on Saturday 30th March 2019
To: 2:00pm on Saturday 30th March 2019