Methven
Methven is a small town situated on the Canterbury Plains near the mountains. Methven is a popular tourist destination - especially in the winter when it is a hub for skiing, but it is also popular for hot air ballooning, jet boating, fishing, trekking and jetboating. Methven is just an hours drive on the Inland Scenic Route 72 and it really comes alive during winter as the nearby Mt Hutt ski resorts open. more
Methven is at the heart of nine Canterbury ski fields and over 1000 km's of NZ's best heli-skiing terrain.
Even if you are not a skier or snowboarder there are many reasons to visit Methven at any time of the year. Within minutes of arriving in Methven you can be enjoying a country golf course, horse trekking through the countryside, hiking or mountain biking nature trails or enjoying a massage or sampling a brew at a local pub while the Norwest turns the sky red.
A Hot air balloon or heli flight provides a bird's eye view of our patchwork landscapes and southern alps.
Take a moment to send a Canterbury related E-Postcard to your friends.
Find By
Where Do You Want To Go?
This New Zealand map does not display any listings on the map itself but may provide navigation by clicking on map symbol. Alternatively select a category or a region from the main links to find and view tourism businesses.
View 2 events near Canterbury - Methven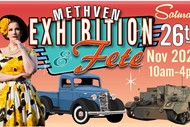 Methven Exhibition & Fete
Sat 26th Nov 2022
Methven Exhibition and Fete Set at the stunning Methven Trotting Club. - Vintage and Classic Cars - Vintage Military Collectors - Best dressed pageant - Great Food - Dozen of artisan stalls - Hot Air balloon ...
Where: Methven Trotting Club, Methven, Ashburton District
Address: Main St, Methven, Ashburton District
From: 10:00am on Saturday 26th November 2022
To: 4:00pm on Saturday 26th November 2022
Mickey & Michelle: 'A Walking Pace' Return Tour
Sun 11th Dec 2022
Mickey & Michelle is an Australian harp and fiddle duo that seamlessly blends contemporary folk and jazz in a rich, unique style of their own. Their debut album 'A Walking Pace' showcases the duo's intricate sound ...
Where: Methven Memorial Hall, Methven, Ashburton District
Address: Main Street, Methven, Ashburton District
From: 6:00pm on Sunday 11th December 2022
To: 8:00pm on Sunday 11th December 2022