Waihi Beach
Set 11 kilometres from Waihi in the Coromandel region, beautiful Waihi Beach stretches along 9 kilometres and is one of the safest surf beaches in New Zealand. The popular white sand surf beach forms a border of the Bay of Plenty region and along with surfing, diving, fishing, and kayaking there are lots of great walking tracks and cycle trails.
Find By
What Do You Want To Do?
Join us for a fun Murder Mystery Night in our unique and historic building that has been lovingly restored to its former glory of the late 19th century.
Where Do You Want To Go?
This New Zealand map does not display any listings on the map itself but may provide navigation by clicking on map symbol. Alternatively select a category or a region from the main links to find and view tourism businesses.
View 2 events near Bay of Plenty - Waihi Beach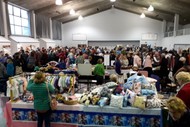 Waihi Beach Art & Craft Fair
Sun 5th Jun 2022
Queens Birthday Weekend the place to be is the WAIHI BEACH ART & CRAFT FAIR this fair has been running for 17 years and this year is an exciting year with so many new faces and amazing crafts. So popular that all 80 ...
Where: Waihi Beach Community Centre, Waihi Beach, Bay of Plenty
Address: Beach Road, Waihi Beach, Bay of Plenty
From: 10:00am on Sunday 5th June 2022
To: 3:30pm on Sunday 5th June 2022
Waste Free Living Workshop
Thu 11th Aug 2022
Have you ever wondered what happens to your waste once you put your bag or bin out? Have you noticed the excessively increasing amounts of packaging? Are you recycling right? Come along and Kate will take you on an ...
Where: Waihi Beach Community Centre, Waihi Beach, Bay of Plenty
Address: Beach Road, Waihi Beach, Bay of Plenty
From: 6:00pm on Thursday 11th August 2022
To: 8:00pm on Thursday 11th August 2022