McLeans Island
McLeans Island is a popular touristic rural district of Christchurch situated northwest out of Christchurch's urbanised settlements on the banks of the Waimakariri River. Some of McLeans Island's major attractions includes New Zealand's only outdoor zoo of Orana Wildlife Park as well as paintballing, golfing, horse trekking, jetboating and more. more
Mcleans Island is the ideal place just out of Christchurch's urban sprawl to enjoy a fun family or adventurous day out.
Find By
What Do You Want To Do?
Arion Horse Trekking invite you to trek along the lovely forest tracks in a safe and peaceful environment. Treks include the majestic and mighty Waimakariri River for some stunning views of the mountains and Canterbury plains and cross the many braided streams when nature permits.

Mobile-friendly - NZ's only open-range zoo. Orana is home to NZ's only gorillas & the country's only orang-utans too! Experience up-close animal encounters: hand-feed giraffe, meet rhino 'face-to-face', view kiwi. Stroll through native-bird aviaries and travel through the Lion Habitat (conditions apply). Our extensive native collection features a range of endangered birds and reptiles. Scheduled animal-feeds daily.
Where Do You Want To Go?
This New Zealand map does not display any listings on the map itself but may provide navigation by clicking on map symbol. Alternatively select a category or a region from the main links to find and view tourism businesses.
View 571 events near McLeans Island
Zirka Circus
From: Thu 21st Mar 2019
Zirka Circus, New Zealand's premium circus, is proud to bring you its 5th tour "La Unica" and it's more spectacular than ever. Zirka Circus has successfully been entertaining families in NZ for more than ten years and ...
Where: Zirka Big Top, Christchurch
Address: Cnr Memorial Avenue & State Highway One, Christchurch
From: 7:00pm on Thursday 21st March 2019
To: 6:15pm on Sunday 31st March 2019
French Film Festival
From: Wed 13th Mar 2019
The French Film Festival has grown to become the foremost French cultural event and the second largest film festival in New Zealand. From 14 March we have a fantastic line up with a variety of 31 fantastic French ...
Where: Hoyts Northlands, Christchurch
Address: Northlands Shopping Centre, Main North Rd, Papanui, Christchurch
From: 7:00pm on Wednesday 13th March 2019
To: 11:59pm on Wednesday 27th March 2019
Dux Monday Medley
From: Mon 18th Feb 2019
Join us at Upper Dux for our Monday Medley open mic night where we showcase all forms of talent from our locals! A mix of comedy, poetry, burlesque, music, drag, circus, and everything else that makes Ōtautahi a ...
Where: Dux Central, Christchurch
Address: 6 Poplar Lane, Christchurch
From: 6:30pm on Monday 18th February 2019
To: 10:00pm on Monday 8th April 2019
Cranford Ale House Quiz Night
From: Mon 14th Jan 2019
Pub quizzes - Join the team at The Cranford Ale House for their weekly free entry Pub Quiz. Featuring: - Great Quiz Master - Free entry - Over $100-worth of prizes each night - Quiz night special meals ...
Where: Cranford Ale House, Christchurch
Address: 305 Cranford St, Christchurch
From: 7:00pm on Monday 14th January 2019
To: 9:30pm on Monday 6th May 2019
Belly Dance Fundamentals
From: Mon 11th Feb 2019
Learn core movements and technique that are the foundations of all styles of belly dance. Suitable for new students to start at any time, in this class we'll learn fundamental movements then put them together in short ...
Where: TribalDiva Studios, Christchurch
Address: 40A Taupata St, Redcliffs, Christchurch
From: 7:30pm on Monday 11th February 2019
To: 8:30pm on Monday 2nd December 2019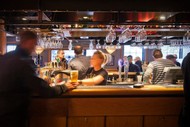 The Craic Session
From: Mon 28th Jan 2019
Join us every Monday for Craic Sessions. Everyone welcome, to participate or enjoy. Irish Music that transports you to Ireland at the very sound. Instruments range from a Flute to a Harp and each week brings ...
Where: Pegasus Arms Restaurant & Bar, Christchurch
Address: 14 Oxford Terrace, Christchurch
From: 7:00pm on Monday 28th January 2019
To: 9:30pm on Monday 6th January 2020
Moving Beyond #Metoo: Theory & Practice for A Changing World
From: Mon 11th Feb 2019
The MeToo movement has been instrumental worldwide in exposing just how insidious sexual harassment and assault is in our society, but the challenge now is to move beyond it and begin creating a culture of consent for ...
Where: Canterbury Workers' Educational Association, Christchurch
Address: 59 Gloucester Street, Christchurch
From: 7:00pm on Monday 11th February 2019
To: 9:00pm on Monday 1st April 2019
Monday Evening Jewellery Class
From: Mon 11th Feb 2019
These are our most popular classes and run on a Monday evening for 8 weeks. We also have a Thursday morning 8 week block and a Sunday morning 4 week block. Suitable for complete beginners right up to advanced ...
Where: Workspace Studios, Christchurch
Address: 49 Ferry Rd, Christchurch
From: 5:30pm on Monday 11th February 2019
To: 8:00pm on Monday 1st April 2019
Unveiled
From: Mon 25th Mar 2019
Three artists who all live in the East side of Christchurch: Maree Cole, painter, Gina Hubert, multi-media artist, Frithjof Moritzen, photographer. Different ideas, different styles and life experiences, but in the ...
Where: Eastside Gallery, Christchurch
Address: Linwood Community Arts Centre, 388 Worcester St, Christchurch
From: 5:30pm on Monday 25th March 2019
To: 3:00pm on Saturday 6th April 2019
Philip H. Anselmo & the Illegals, TBG Tour: CANCELLED
Tue 26th Mar 2019
Thrash Blast Grind Tour is back to appease the eyes and ears of metalheads all over Australia and New Zealand in March 2019! This new edition will be headlined by none other than the legendary Philip H. Anselmo & the ...
Where: Empire Bar & Izakaya, Christchurch
Address: 172 St Asaph Street, Christchurch
From: 8:00pm on Tuesday 26th March 2019
To: 11:59pm on Tuesday 26th March 2019